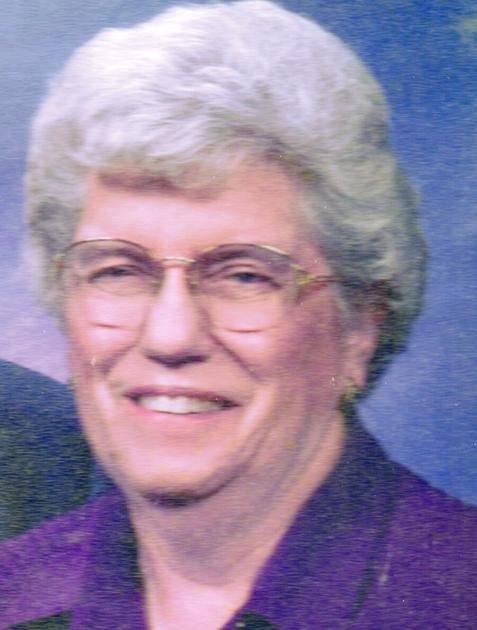 Velma A. Walker peacefully went home to be with the Lord at her Presbyterian Manor residence in Emporia, Kansas on July 29, 2021. She was born October 17, 1931, to Harry and Bessie Payne in Syracuse, Kansas. She met her future husband, Eugene H. Walker, while attending Kansas State University. In 1953 she received her B.S. in Home Economics from Kansas State University.
Upon college graduation Velma worked in the Morton County Extension office as Home Economist in Elkhart, Kansas. She and Eugene Walker were married in 1954 at the All-Faiths Chapel on the KSU campus and lived in Longford, Kansas.
She taught in a one room schoolhouse in Longford, Kansas briefly before becoming a homemaker to raise their young family. Velma and Gene moved to Emporia, Kansas in 1960. While raising their six children she created a career as a professional seamstress. After making her own wedding dress and bridesmaid dresses in 1954 she fashioned beautiful gowns for brides, bridesmaids and wedding parties, prom dresses, as well as alterations for more than 30 years. She also taught men's tailoring classes and was an active 4-H leader. During her lifelong commitment to 4-H she was a sewing project leader and used her talents to judge sewing and baking exhibits at many county fairs in the surrounding area. One of the highlights of her sewing career was working on the film costuming team for the "Sarah Plain and Tall" movie production that was filmed locally in 1990. For many years in their retirement, Velma and Gene partnered in their daylily hybridizing business, Flint Hills Daylily Gardens. They delighted in welcoming people from all over the country to their home and sharing their beautiful daylily garden. Their daylilies are a floral legacy of living memories for their community, friends, and family.
Velma was a member of the First Methodist Church faithfully facilitating funeral dinners and serving on numerous committees. She was also an active member of United Methodist Women, Emporia Garden Club, Emporia Retired Teachers, Flint Hills Cat Backers, and a founding member and leader of the Flint Hills Sewing Guild.
She is survived by her children, Darrel Walker of Guadalajara, Mexico, Pamela (Curt) Martin of Overland Park, Kansas, Rhonda (Jeff) Schmidt of Emporia, Kansas, Julie (Roy) Norton of Siesta Key, Florida, and Marla (Jim) Rieder of Akron, Ohio as well as 6 grandchildren and 10 great grandchildren.
Velma was preceded in death by her parents, Harry and Bessie Payne; brother, Harold Payne; sister, Frances Morgan; son, Gary Walker and husband, Eugene Walker.
Hospitality, generosity, thoughtfulness, and wit were interwoven into the fabric of her life. She shared these qualities with everyone she met. Her nurturing spirit will live within the hearts of all who knew her.
Memorial donations in Velma's honor can be directed to: Charter Funerals, 501 West 6th Street, Emporia, Kansas 66801; ph: 620.342.5522; www.charterfunerals.com.
Please specify one of Velma's favorite charities: First United Methodist Church, Friends of the Emporia Zoo, Kansas State University Flint Hills Cat Backers Scholarship Fund, and Gardeners of America.
[ad_2]
Originally Appeared Here