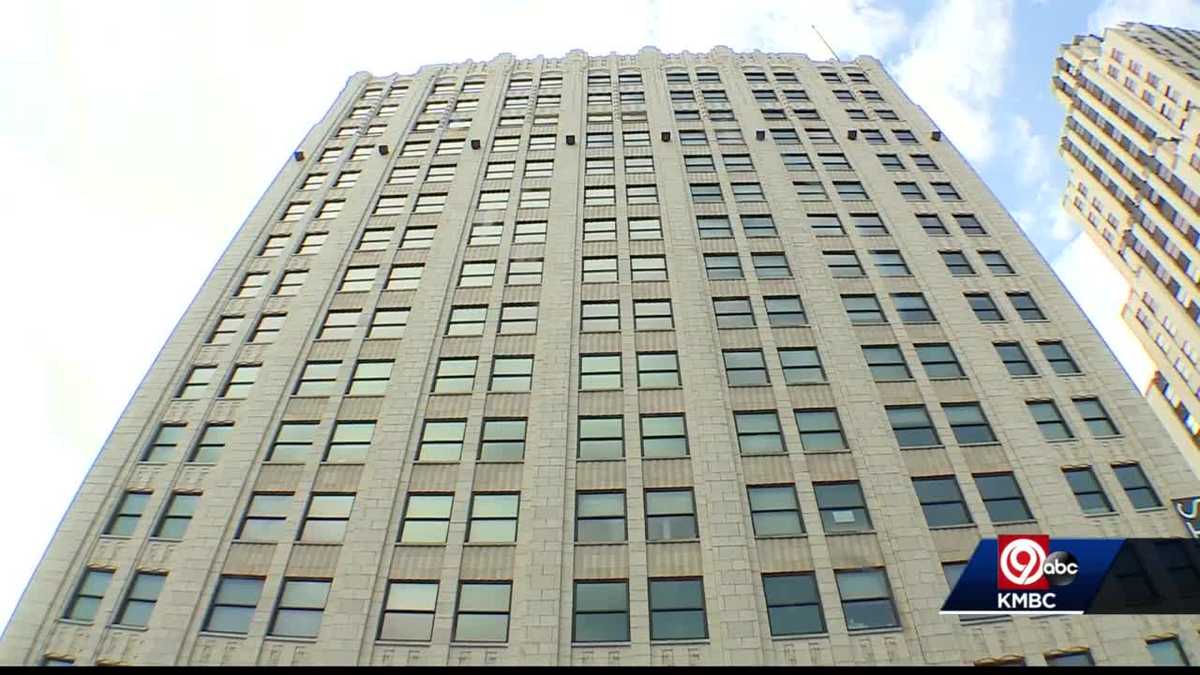 Jarrod McDaniel breathed heavily on Friday as he finished climbing a dark stairwell to his 11th-floor apartment."I've already begun packing," he said after opening the door using his cellphone light. "I have so much more to go."McDaniel is wondering how he will move all his furniture and personal items down the pitch-dark staircase of the 132-unit Professional Building Lofts at 1103 Grand Ave. since the elevator is not working.A burst water pipe flooded the basement damaging the building's electricity supply last weekend.Contractors hired by the property's owner, Alexander Company, are now trying to restore the building's power and water as residents must now look for temporary shelter for at least two months.Alexander Company's director of property management Jenni Lippitt on Wednesday sent a letter to residents canceling leases due to the damage. She also said people cannot return to the building until May.Residents would have to hire insured and bonded movers at their own expense and let the company know if they wanted to stay or go, the letter said. Anyone staying in hotel rooms paid for by the landlord at the downtown Marriott would stop getting free rooms on March 5."You are still responsible for any incidentals, parking fees or damages," Lippitt said. "As of noon on the 5th, you will need to check out or make other arrangements with the hotel on your own."AFTER LETTER, RESIDENTS DEMAND HELPThe abrupt communication and a lack of clarity from Alexander Company property management left residents pleading for help from their landlord this week. They also started talking with the tenants' rights group KC Tenants, city leaders, and KMBC 9 Investigates, saying two weeks of accommodation is not fair when they are forced to move with little notice in the middle of a pandemic."They should be helping the people out a whole lot more than what they're doing," McDaniel said.The company on Thursday sent a follow-up letter to residents clarifying people should not pay rent, saying they could get security deposits returned via overnight mail.The letter also offered to let residents keep property in their apartments until damage is repaired.But residents still had questions on why the company would stop paying for hotel rooms at the downtown Marriott after March 5."We're in the middle of a pandemic and you're asking people to figure out their lives for two to three months in less than six days," said a woman who lives at the apartments who wished to remain anonymous. She does not have renter's insurance, much like several other residents. "They didn't really encourage it," she said.A spokeswoman for Alexander Company responded to questions from KMBC 9 Investigates about living arrangements in an email. You can read the full email here."It has always been our intention to, and we remain committed to, either finding additional temporary lodging for another two weeks," said spokeswoman Kendra Bishop. "We hope to share more concise information regarding these matters with our residents as soon as possible."Bishop also said Alexander Company is taking care of parking at the Marriott and it's her understanding the hotel is providing complimentary internet access to PB Lofts residents.As of Friday afternoon, residents are still waiting for better details on where they will go next."The management isn't properly communicating with them," said Tara Raghuveer, KC Tenants Director. "They don't know the avenues of accountability at the city level, and it's all a mess."Raghuveer said several tenants have contacted her during the past 48 hours asking for answers. It is examples like the PB Lofts situation, she says, that KC Tenants continues to push city leaders to fully fund the city's tenant advocate office and ensure enforcement of tenants' rights citywide."I'm losing track of the number of accounts we have of this kind of mass forced eviction in the middle of a deadly pandemic," Raghuveer said.The Housing Authority of Greater Kansas City on Friday confirmed 15 PB Lofts tenants are getting transfer vouchers to move after the damage."We have reached out to all and we have appointments with five today to issue transfer vouchers," said Edwin Lowndes, director of the Housing Authority. "We hope to get the others issued today, tomorrow, and on Monday."NEXT STEPSResidents living at the property received expanded hours to move their property from the building this weekend."We're working with any residents who are interested in removing their belongings," Bishop said. "At this time, very few residents have expressed to us an interest in doing so." Still, the company is requiring movers to prove they are bonded and have insurance, causing residents to concern about how they will pay people to move out.The PB Lofts resident who wished to remain anonymous said she has secured an Airbnb for March with the help of friends. But she still does not have an idea of what will happen in April and May."To leave people kind of out fending for themselves is deplorable," she said.McDaniel said he is staying with his grandmother. He was looking forward to a summer of downtown life after moving into the PB Lofts just six months ago. He said he is more worried about older or disabled residents in the building."I don't know where people are going to live," he said. "A lot of people don't have anywhere to go."
KANSAS CITY, Mo. —
Jarrod McDaniel breathed heavily on Friday as he finished climbing a dark stairwell to his 11th-floor apartment.
"I've already begun packing," he said after opening the door using his cellphone light. "I have so much more to go."
McDaniel is wondering how he will move all his furniture and personal items down the pitch-dark staircase of the 132-unit Professional Building Lofts at 1103 Grand Ave. since the elevator is not working.
A burst water pipe flooded the basement damaging the building's electricity supply last weekend.
Contractors hired by the property's owner, Alexander Company, are now trying to restore the building's power and water as residents must now look for temporary shelter for at least two months.
Alexander Company's director of property management Jenni Lippitt on Wednesday sent a letter to residents canceling leases due to the damage. She also said people cannot return to the building until May.
Residents would have to hire insured and bonded movers at their own expense and let the company know if they wanted to stay or go, the letter said. Anyone staying in hotel rooms paid for by the landlord at the downtown Marriott would stop getting free rooms on March 5.
"You are still responsible for any incidentals, parking fees or damages," Lippitt said. "As of noon on the 5th, you will need to check out or make other arrangements with the hotel on your own."
AFTER LETTER, RESIDENTS DEMAND HELP
The abrupt communication and a lack of clarity from Alexander Company property management left residents pleading for help from their landlord this week. They also started talking with the tenants' rights group KC Tenants, city leaders, and KMBC 9 Investigates, saying two weeks of accommodation is not fair when they are forced to move with little notice in the middle of a pandemic.
"They should be helping the people out a whole lot more than what they're doing," McDaniel said.
The company on Thursday sent a follow-up letter to residents clarifying people should not pay rent, saying they could get security deposits returned via overnight mail.
The letter also offered to let residents keep property in their apartments until damage is repaired.
But residents still had questions on why the company would stop paying for hotel rooms at the downtown Marriott after March 5.
"We're in the middle of a pandemic and you're asking people to figure out their lives for two to three months in less than six days," said a woman who lives at the apartments who wished to remain anonymous. She does not have renter's insurance, much like several other residents.
"They didn't really encourage it," she said.
A spokeswoman for Alexander Company responded to questions from KMBC 9 Investigates about living arrangements in an email. You can read the full email here.
This content is imported from Twitter. You may be able to find the same content in another format, or you may be able to find more information, at their web site.
"It has always been our intention to, and we remain committed to, either finding additional temporary lodging for another two weeks," said spokeswoman Kendra Bishop. "We hope to share more concise information regarding these matters with our residents as soon as possible."
Bishop also said Alexander Company is taking care of parking at the Marriott and it's her understanding the hotel is providing complimentary internet access to PB Lofts residents.
As of Friday afternoon, residents are still waiting for better details on where they will go next.
"The management isn't properly communicating with them," said Tara Raghuveer, KC Tenants Director. "They don't know the avenues of accountability at the city level, and it's all a mess."
Raghuveer said several tenants have contacted her during the past 48 hours asking for answers. It is examples like the PB Lofts situation, she says, that KC Tenants continues to push city leaders to fully fund the city's tenant advocate office and ensure enforcement of tenants' rights citywide.
"I'm losing track of the number of accounts we have of this kind of mass forced eviction in the middle of a deadly pandemic," Raghuveer said.
The Housing Authority of Greater Kansas City on Friday confirmed 15 PB Lofts tenants are getting transfer vouchers to move after the damage.
"We have reached out to all and we have appointments with five today to issue transfer vouchers," said Edwin Lowndes, director of the Housing Authority. "We hope to get the others issued today, tomorrow, and on Monday."
NEXT STEPS
Residents living at the property received expanded hours to move their property from the building this weekend.
"We're working with any residents who are interested in removing their belongings," Bishop said. "At this time, very few residents have expressed to us an interest in doing so."
Still, the company is requiring movers to prove they are bonded and have insurance, causing residents to concern about how they will pay people to move out.
The PB Lofts resident who wished to remain anonymous said she has secured an Airbnb for March with the help of friends. But she still does not have an idea of what will happen in April and May.
"To leave people kind of out fending for themselves is deplorable," she said.
McDaniel said he is staying with his grandmother. He was looking forward to a summer of downtown life after moving into the PB Lofts just six months ago. He said he is more worried about older or disabled residents in the building.
"I don't know where people are going to live," he said. "A lot of people don't have anywhere to go."