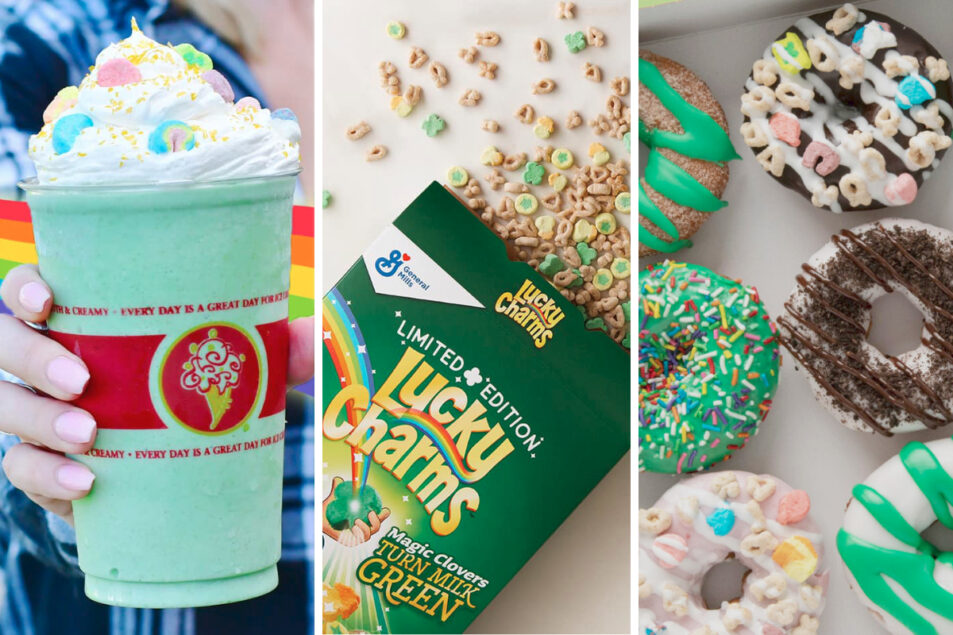 KANSAS CITY – Nearly 33 million people celebrate St. Patrick's Day each year, and 57% of Americans celebrated the holiday in 2020, according to the National Restaurant Association. In 2020, St. Patrick's Day consumers gave around 6.1 billion US dollars.
To get their share of that green, companies and consumer product companies are offering limited edition foods to help consumers celebrate the holidays.
General Mills, Inc. introduced limited edition Lucky Charms for Green Milk Turn. The cereal contains clover-shaped pieces of marshmallow that turn the milk green. The gluten-free roasted oatmeal contains 140 calories and 12 grams of sugar per 1 cup serving.
"For generations, Lucky Charms has been synonymous with amazement and fun. This year we're adding even more colorful magic for a special St. Patrick's Day," said Mindy Murray, Senior Brand Experience Manager at Lucky Charms. "We're excited to bring lots of ways to celebrate at home … to help parents create magical memories with their children."
Lucky Charms Muesli appears in a flood of innovations for St. Patrick's Day. Cold Stone Creamery has partnered with General Mills to launch Lucky Charms Ice Cream, available in a new Cold Stone Creation and Milkshake topped with Lucky Charms marshmallows.
"Cold Stone Creamery is excited to partner with General Mills this month to bring the magic beyond the cereal bowl and introduce this limited-time flavor," said Sara Schmillen, vice president of marketing at Kahala Brands, parent company of Cold Stone Creamery. "Guests of all ages will enjoy the nostalgia of this combination and it is sure to bring them some luck."
Pinkbox Donuts offers the Lucky Charms Bar, a green frosted donut with Lucky Charms muesli.
Duck Donuts offers the Lucky Duck range for celebrations for St. Patrick's Day, including three types with Lucky Charms: chocolate glaze with Lucky Charms and marshmallow drizzle, strawberry glaze with Lucky Charms and marshmallow drizzle topping, and glaze with Lucky Charms and marshmallow Drizzle.
"We had an overwhelmingly positive reaction and excitement after we first offered cereal on our donuts. So it was an easy decision to bring back the fan-favorite range for St. Patrick's Day, "said Russ DiGilio, CEO and Founder of Duck Donuts. "As a company that prides itself on creating unique experiences, this year customers can create their own happiness by adding magical charms to their bespoke donut."
View a slideshow of new St. Patrick's Day deals.