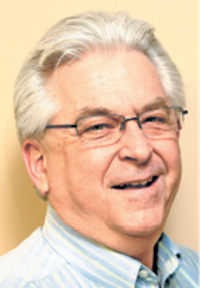 As you may have seen in last week's issue of the Informer, the Derby school district and the Derby Recreation Commission joined a coalition which plans to protest recent high gas bills. The action is a result of the extended severely cold temperatures in February causing gas bills to skyrocket to unheard amounts.
The gas bill for the DRC was more than 20 times the normal rate compared to what it typically sees, while the school district's bill came in averaging almost five times its normal amount. The combined gas bills for the two entities together totaled $278,000, which in normal years would have been around $45,250 combined, give or take a couple thousand.
The coalition leading the protest charge is headed up by a law firm out of Overland Park, Kan. The legal direction is headed down a path that centers around the fact that they have been charged an unfair rate. Talk of an anti-profiteering statute in Kansas that indicates charges during a disaster must be limited to a certain percentage of the price prior to the emergency. We'll see about that.
All of this legal mumbo jumbo really falls into the unknown category, as there are too many questions as to what the elements were (as a result of the temperatures) that really caused prices to blow up. And some of those answers may center around what energy giants did or didn't do with some poor policies of their own that played a part in the issue.
A couple of months ago in Kansas Senate testimony, the Chairman and President of Berexco, an oil and gas company based in Wichita, said that in many ways the price increases needn't have happened.
According to The Sentinel, a nonprofit news organization, Berexco's Adam Beren says most of their oil wells were shut down during the time of the Arctic temperatures in order to conserve electricity and avoid spills. But other than some natural gas wells that couldn't operate due to no electricity, most of their gas wells were in operation.
Beren says in the article that utilities were not in contact with the gas producing companies enough and they didn't prioritize gas facilities for non-interruption, as many could not operate during the frigid temperatures.
Many gas producers were ordered to come online to assist when the cold temperatures caused wind farms to shut down. When that happened, they didn't have fixed-pricing contracts forcing higher spot prices for natural gas. This caused heavy losses. One company had a $100 million shortfall while others were less.
According to The Sentinel article Kansas was not short of power.
Southwest Power Pool (SPP) is a regional transmission organization that coordinates, controls and monitors a multi-state electric grid that includes Kansas, Oklahoma and Nebraska as well as portions of other Midwest states.
Information on the SPP website indicates that, even without wind power, excess generating capacity is more than sufficient to meet peak loads. The demand for power was only marginally higher during the cold temperature periods and, as Beren said, wasn't beyond some peaks we've had in the past.
So, if we identify the problems, wind blades were frozen and the wind didn't blow. The gas and coal plants were asked to ramp up. Since they were not priority in the SPP arena, they didn't have fixed pricing contracts in place and were caught off guard when SPP asked them to increase services.
In The Sentinel article Beren commented that since SPP doesn't prioritize those baseload plants, the situation caught up with them and they never expected to pay $200 to $300 per gas unit when they needed to run.
To sum up Beren's final assessment, gas producers didn't have electricity to run their plants, because they weren't prioritized in the emergency hierarchy, meaning gas pipelines didn't have their compressor stations running and gas plants weren't producing.
No matter whether the legal process of trying to lessen the impact of gas bills from the super freeze earlier this year works or not for the DRC and the Derby schools, the real hope is someone learned how to correct the apparent debacle that caused it – especially when the consumer has no control and is at no fault.
[ad_2]
Originally Appeared Here