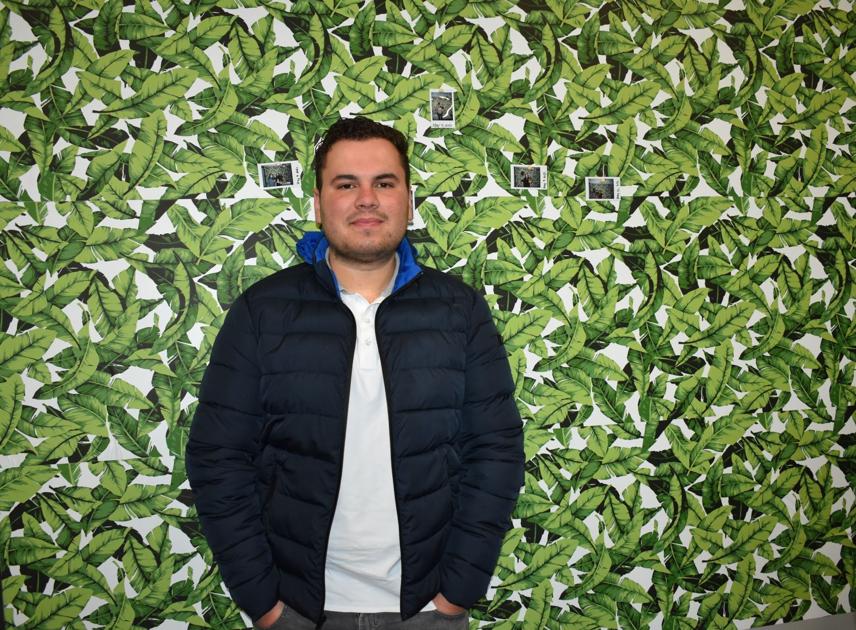 While growing up in Miami, Angel González said he hated gardening. His father would wake him and his brothers early on weekend mornings to help tend to their yard, mow the lawn, trim foliage and pick produce.
But his outlook on plant care changed after he moved to Kansas. González said he loved the changing seasons and the way everyone and everything came alive in the spring.
"In Miami, it's just summer, summer, summer," González said. "I think it was just me moving out here and experiencing the four seasons, especially winter where everything is cold and gray. Come spring, it was just awesome to see everybody on their bikes, walking their dogs, people buying their plants and everything. I was just like, 'Wow, now that makes me want to have plants.'"
That passion has ultimately culminated in González, 24, opening up the Sunflower Plant Shop nearly two weeks ago at 1125 Laramie St. Suite F, on the southern outskirts of Aggieville. Though he is still based in Lawrence at the moment, González plans to move to Manhattan in June.
González moved to Kansas about three years ago. After high school, he'd wanted to go somewhere different than his classmates, and when he stopped in the Kansas City area after a road trip back from Colorado, he said he fell in love.
He's lived in Overland Park and Lawrence since then, and he attended Johnson County Community College for a time before realizing that path wasn't for him.
Along the way, his own personal houseplant collection has swiftly grown: González estimates he has about 140 leafy friends scattered throughout his home, and he said he enjoys tending to his indoor garden. His favorite type is cacti after learning that one of the reasons they grow spines is an adaptation to protect from potential predators.
"Definitely the best part of being a plant parent is seeing new growth or new foliage or new colors come in," he said. "That's the most rewarding thing, it's like I'm doing something right."
The idea of getting into plant markets was first planted as González sold from his collection here and there, which he found profitable. Just before opening his own store, González worked in sales and security at Ross, but he said he came to realize it wasn't what he wanted to do for the rest of his life.
He entertained the idea of opening a storefront for greenery and saved for about two years, but the right circumstances didn't start aligning until about the past month, González said, when he saw his current location's property up for rent.
He'd visited Manhattan before and liked how vibrant and young the city appeared. The rent price also was one he couldn't pass up. González said he was close to giving up on a physical space after searching for so long with nothing to show for it.
As a young and new entrepreneur, González said he'd thought so often about the "what if's," but decided he didn't want those doubts to get in the way of actualizing his dream. His family members who have been business owners themselves, as well as some other helpful Manhattanites, gave him tips on running the store.
"It also was a little bit scary thinking about if something like COVID were to ever happen again how that could impact me, but I think that's just part of the risk you have to take as a business owner," he said.
Now, González is able to share his green thumb with even more people, and his day-to-day work revolves around being surrounded by a variety of houseplants, from ZZ, pothos, cacti, succulent, snake plants and more. Though it hasn't been long yet, González said he's felt welcomed with open arms by fellow plant enthusiasts in the Manhattan community.
"It's been so amazing," González said. "I cannot even put into words how caring this community is, how they will help you out in any way possible and how welcoming they are. It's just insane. … (Foot traffic) was like nonstop for the first weekend. All those self doubts that I had were complete nonsense than what actually happened."