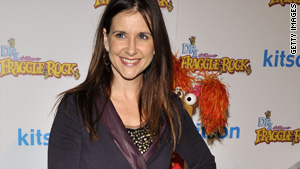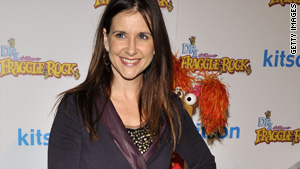 After leaving "Life Goes On", Kellie Martin earned an art degree from Yale and continues to act on other TV shows.
STORY HIGHLIGHTS
How some childhood icons are now making a living
Brittany Daniel of "Sweet Valley High" TV show is producing "Ruby" — about woman's weight loss
New Kids on the Block's Jonathan Knight still sings, but also sells real-estate
Joe Millionaire's Evan Marriott has left TV and returned to job in construction
(CareerBuilder.com) — We all have our childhood icons. Some never seem to leave the spotlight and continue their careers in the public eye for decades, but others seem to disappear.
Here are 10 examples of the latter, and how they've been making a living, post-stardom.
1. Dominique Moceanu
Famous for: Her Olympic gold medal as part of the 1996 "Magnificent Seven" U.S. gymnastics team.
What's she doing now? Moceanu, 28, has maintained her involvement with the sport that made her famous. According to her website, Moceanu teaches various gymnastics camps and is writing a series of children's books on the sport. Moceanu graduated from John Carroll University in Ohio in 2009 with a bachelor's degree in business administration.
Famous for: Starring as one-half of the Wakefield twins on the television series "Sweet Valley High."
What's she doing now? Daniel, 34, has maintained a relatively low-profile acting career since her days as Jessica Wakefield, making appearances in the film "Joe Dirt" and the TV series "That 70s Show."
Currently, she is an executive producer on the Style Network's popular reality series "Ruby," which chronicles the weight-loss struggles of a Georgia woman. Daniel is a close friend of the show's star, Ruby Gettinger, and was a driving force behind the show's creation.
3. Sean Duffy
Famous for: His role on MTV's "Real World: Boston" in 1997.
What's he doing now? Duffy, 38, is running for U.S. Congress as a representative from Wisconsin's 7th Congressional District. The lawyer and district attorney for Ashland County, Wisconsin, also has six children with fellow Real World alum, San Francisco cast member Rachel Campos.
Famous for: His second-place finish on the first season of "American Idol."
What's he doing now? Guarini, 31, was signed to RCA Records, but was dropped in 2003 after disappointing sales of his debut album, "Justin Guarini." Since then, he has released two follow-up albums through his production company, Justice Entertainment. Guarini has been involved with various specials for "American Idol" and had a long-term stint hosting TV Guide Channel's "Idol Tonight."
5. Willie Aames
Famous for: His roles in '70s and '80s sitcoms such as "Eight is Enough" and "Charles in Charge."
What's he doing now? In the mid-90s, Aames, 49, found religion in a 12-step program and became a Christian minister. He spent the next eight years producing "Bibleman," a faith-based video series.
After filing for bankruptcy in 2008, Aames became a certified financial adviser in 2009 and began working at a Kansas City money-management fund in January 2010. His career as a CFA didn't last long. Aames reportedly took a job as part of Oceania Cruiseline's entertainment staff in March 2010.
6. Evan Marriott
Famous for: Pretending to be a millionaire on the Fox network's 2003 dating series "Joe Millionaire."
What's he doing now? Marriott, 35, unsuccessfully attempted to stretch his 15 minutes of fame with a variety of low-budget film roles and appearances on TV shows such as "Hollywood Squares" and "Battle of The Network Reality Stars."
After withdrawing from the spotlight, Marriott returned to his real-life role as a construction worker.
7. Rider Strong
Famous for: Playing Shawn Hunter in the '90s sitcom "Boy Meets World."
What's he doing now? After his role ended in 2000, Strong, 30, entered academia. In 2004, he graduated magna cum laude from Columbia University with a degree in English, and in 2009 he received a master of fine arts degree from Bennington College in Vermont.
He is currently pursuing a directing career with older brother Shiloh. In 2008, their short film "Irish Twins" appeared at film festivals including TriBeCa, Radiance, Los Angeles International and St. Louis and won various awards.
8. Vincent Angelo LaRusso
Famous for: His role as hockey player Adam Banks in "The Mighty Ducks" trilogy.
What's he doing now? LaRusso, 31, graduated with a business degree from Boston University's school of management in 2000. Since then, he's had minor roles in independent films and is reported to have been seen working as a waiter and bartender in both Boston and Los Angeles.
9. Kellie Martin
Famous for: Starring as Becca on the television series "Life Goes On."
What's she doing now? Martin, 34, had a stint on "ER" from 1998-2000, but left to finish her studies at Yale University. In 2001, Martin graduated from Yale with a degree in art history.
Since then, she has appeared in various Lifetime network and made-for-TV movies. In 2009, she made a guest appearance on "Grey's Anatomy" and recently had a cameo appearance on ABC's "Private Practice."
10. Jonathan Knight
Famous for: His part in the singing group New Kids on The Block
What's he doing now? Knight, 36, was never one for the spotlight, and after New Kids on The Block broke up, he left the entertainment industry to pursue a real-estate career in Massachusetts.
Although he initially resisted, in 2008 Knight joined the rest of his former band-mates to announce a reunion. They have since released a comeback album and have national tour dates scheduled throughout the summer, though Knight continues to work in real-estate.
&copy CareerBuilder.com 2011. All rights reserved. The information contained in this article may not be published, broadcast or otherwise distributed without the prior written authority.