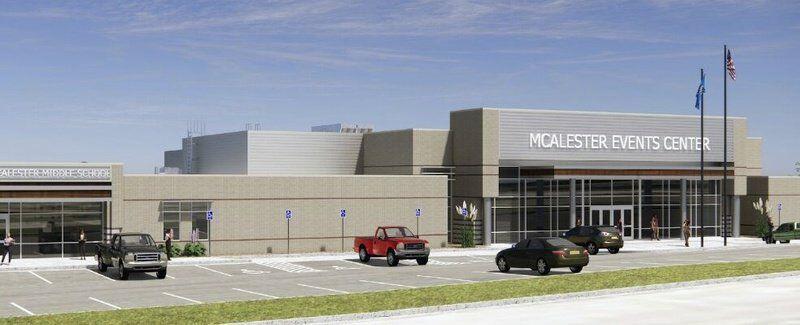 <
McAlester Public Schools officials are closer to starting construction on a new middle school and event center.
MPS Board of Education members recently voted to approve two resolutions to allow MPS quicker access to $23.5 million to move forward on construction of the facility through the $34.9 million bond initiative voters approved in February.
School officials also chose a construction manager for the project — which will add classrooms, labs, a new event center that doubles as a storm shelter and more for nearly 800 students in the seventh through 12th grades.
McAlester Public Schools Assistant Superintendent of Finance Chad Gragg told board members 79 construction companies on the Oklahoma Office of Management and Enterprise Services official registry were invited to apply for the bond project opening.
He said 16 of those sent a request for qualifications, which included questions, requirements, presentations and more, and six of those companies made the district's short list from which to choose.
"They were very impressive companies and this was a very hard decision to make a recommendation," Gragg said. "I think any of the six we interviewed would do a great job."
The district requested those companies send general conditions — reimbursement expectations, construction management fees, and more — which were considered for the recommendation.
Gragg recommended the board enter into negotiations on terms for a contract for using construction management at-risk with Crossland Construction Company.
Board President Joy Tribbey moved to accept the recommendation, board member Cameron Fields seconded and the motion was unanimously approved during the May 10 meeting.
The board also approved two resolutions during that meeting to authorize "the leasing of certain real property to the Pittsburg County Educational Facilities Authority" and accept a sublease agreement "whereby the Pittsburg County Educational Facilities Authority will sublease certain real property and improvements thereto to the district."
J.C. Leonard, vice president at Stephen H. McDonald and Associates, Inc. which is the financial consultant for MPS on the bond initiative, told board members those actions were the last items needing board approval for the district to get funds from the bond issue.
MPS board members awarded $2.925 million in general obligation bonds April 22 to First National Bank & Trust Co. of McAlester in association with UMB Bank, N.A. of Kansas City, Missouri — with a $27,996.20 net interest cost and 0.379867% average rate.
The board awarded the bonds to the lowest bidder, as required by law. Gragg compared the action to making a down payment for the entirety of the $34.9 million bond voters approved in February.
Pittsburg County commissioners unanimously voted to create the Pittsburg County Educational Facilities Authority on May 3 to allow area school districts quicker access to bond funds.
Contact Adrian O'Hanlon III at aohanlon@mcalesternews.com