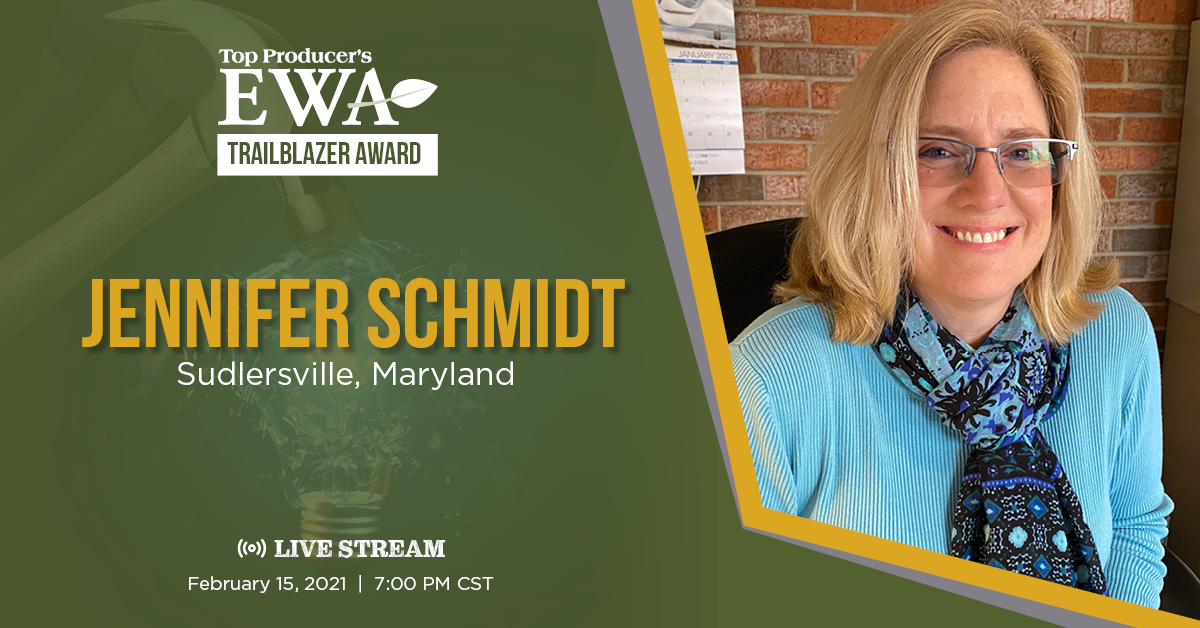 On the eastern shore of Maryland, Jennie Schmidt is enjoying her second career. A registered dietician turned farmer, Jennie now determines the diets of a host a crops. She still uses her nutrition knowledge every day, just in a different biological system.
When Schmidt married her husband, Hans, she became part of the third generation to lead Schmidt Farms, a diversified operation near the Chesapeake Bay. The farm produces green beans, tomatoes, grapes, soybeans and corn.
An appointment in 2015 for Hans created a full-time position for Jennie on the farm. 
"Certainly, he's still a very active member on the farm, especially when we're really busy," Schmidt says of her husband. "We do need a third person on a on a piece of equipment and I'll sometimes let him drive the combine, but not really."
Now she leads day-to-day operations with her brother-in-law, Alan.
The farm is "Certified Agricultural Stewardship" for having met the highest standards for nutrient management and conservation initiatives. Sustainability has been a priority at Schmidt Farms for decades. The family began no till farming in the early 1960s (and were featured in a 1965 edition of Farm Journal), plant cover crops and frequently conduct evaluations and trials to assess economic and environmental impacts. 
Diversification is also a focus at Schmidt Farms.
"How much can we add value to each acre? We can't necessarily always get more acres in this area. It's very competitive to rent and to buy and so we were looking at how to add value to these acres," Schmidt says.
What motivates Schmidt is being able to share the benefits of modern agriculture. She is a fantastic communicator and can relate to others as a farmer, nutritionist or mother. She serves on boards and organizations where few other women are represented. 
As Schmidt looks forward, her goal is to successfully transfer a profitable, sustainable business to the fourth generation.
"Ten years from now, I hope, of the four Schmidt children are the fourth generation; one of them is likely to come back," Schmidt says.
Congratulations to Jennie Schmidt the 2021 Top Producer Trailblazer Award Winner. 
Sponsored by Corteva, the Executive Women in Agriculture Trailblazer Award recognizes female producers who are shining examples for their peers, as well as advocates for agriculture who represents an innovative farming operation. Applicants were judged on agricultural advocacy, farm business innovation and industry or community leadership. 
The winner received expenses paid to this conference and leadership, business or succession planning consulting sessions with Rena Striegel with Transition Point Business Advisors. 
For 2021, the Top Producer Summit includes both a small in-person event, which was held Feb. 15-17 in Nashville, Tenn. An online program launches Feb. 23-25. With the theme, "Breaking New Ground," producers will hone their money, marketing and management skills.
Learn more about Top Producer Summit at TPSummit.com. Sponsors include:
Presenting: BASF, Beck's Case IH, Nutrien, Farmers Mutual Hail, Fendt, Indigo, Pioneer and Pivot Bio
Supporting: AgCredit, CLA, Lincoln Financial Network 
The online Top Producer Summit, happening Feb. 23-25, will feature 25 sessions (ranging in length from 30 min. to 1 hour). Several recorded sessions from the in-person event will also be featured. Just a few of the online speakers include:
Eric Snodgrass, Nutrien Ag Solutions
John Phipps, Top Producer Columnist
Dr. Temple Grandin, Colorado State University 
Esther George, Federal Reserve Bank of Kansas City
Seth Meyer, USDA Chief Economist
Angie Setzer, Citizen's Grain
Stephen Nicholson, RaboResearch Grains
The registration fee is $125. To receive 50% off, use the code: TPS50