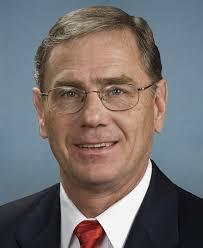 U.S. Representative Blaine Luetkemeyer has no intention of running for Missouri's 2022 U.S. Senate seat, Georgeanna Sullivan, communications director for the congressman, told The Missourian in an email.
Luetkemeyer, who represents Missouri's 3rd District, was not immediately available for comment, but Sullivan provided a statement. 
"The Congressman is very happy serving in the House," she wrote. "He has spent his entire life in the Third District and cares about it deeply. He has no interest in pursuing other offices."
This runs counter to previous press reports that said he was considering a run for higher office following the announcement that current U.S. Sen. Blunt would not seek reelection in March. Initially elected to the position in 2010, Blunt served two six-year terms in the Senate and has served as the chair of the Senate Rules Committee. He is currently a member of the Senate's Appropriations Committee; the Commerce, Science and Transportation Committee; and the Committee on Intelligence. 
Luetkemeyer, who represents Washington and Franklin County, as well as an area stretching from Jefferson City and Osage Beach to the Missouri River, has been a U.S. congressman since 2009. He serves on the House Financial Services Committee, the Consumer Protection Subcommittee and the Small Business Committee.
Since Blunt's announcement, the race for the open seat has become quite crowded with more than 10 declared candidates and an additional 11 candidates reportedly eyeing the office. 
Among Republicans, those to formally declare their candidacy are Former Gov. Eric Greitens, who resigned amid multiple scandals; Attorney General Eric Schmitt; Mark McCloskey, who gained national attention after brandishing a firearm at protesters outside his St. Louis home and later spoke at the Republican National Convention; and Vicky Hartzler, a former state representative who is now a congresswoman representing parts of central and western Missouri.
Rik Combs, a businessman and retired U.S. Air Force officer who was the Libertarian Party's nominee for governor in 2020, has launched a long-shot bid for the Republican Party's nomination in 2022. 
Other Republican candidates might soon join the fray, including several of Luetkemeyer's colleagues in the state's congressional delegation who have spoken publicly about their potential candidacies: Rep. Billy Long, who has represented southwest Missouri in Congress since 2011; Rep. Jason Smith, who is a former member of the Missouri House and since 2013 has represented southeast Missouri in Congress; and Rep. Ann Wagner, who has represented suburban St. Louis since 2013. She previously was an ambassador to Luxembourg. 
Locally, State Senator Dave Schatz, who is the president pro tem of the state Senate, is also considering a run for the seat. He told The Missourian on Thursday that he expects to make a decision by mid-July. 
Other Republicans who are rumored to be potential candidates are current State Treasurer Scott Fitzpatrick; former gubernatorial candidate and U.S. Senate candidate John Brunner; and retired NASCAR driver Carl Edwards, who said in April that he didn't have an "active" ongoing campaign.
Luetkemeyer joins other high profile Republicans — Gov. Mike Parson, Lt. Gov. Mike Kehoe, Secretary of State Jay Ashcroft and former Lt. Gov. Peter Kinder — who have decided against a run for the U.S. Senate.   
Among Democrats, those who have declared their candidacy include former State Sen. Scott Sifton, who represented the southern St. Louis suburbs, Air Force veteran Jewel Kelly, Marine veteran Lucas Kunce, Kansas City LGBTQ+ rights activist Tim Shepard and business owner Spencer Toder.
Other high profile Democrats who have publicly expressed interest are Kansas City Mayor Quinton Lucas and State Senator Brian Williams. If either of these two men were elected, they would be the first Black man elected to statewide office in Missouri. Other potential Democratic candidates remain undecided, including former Gov. Jay Nixon, who served two terms after serving 16 years as Missouri attorney general. Also undecided is former Attorney General Chris Koster, who was the Democratic Party's nominee against Greitens in 2016.
>>> Don't Miss Today's BEST Amazon Deals!

Originally Appeared Here