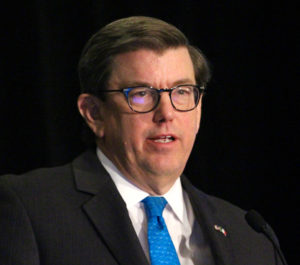 KANSAS CITY, Mo. — Kansas City Southern was indeed the pretty girl at the dance.
KCS was pursued by at least two other suitors besides Canadian Pacific and Canadian National – including an unnamed Class I system that was interested in acquiring only part of the cross-border railroad — during the lengthy process leading to its planned merger with CN.
One of those suitors, described only as "Party A" in a regulatory filing Thursday, was still in the running to acquire the railroad just days before KCS decided to accept CP's merger offer on March 20.
The KCS proxy statement includes a detailed timeline of how merger talks unfolded over the past year, culminating with the merger agreement it reached with CN on May 21.
On Aug. 11, 2020, the KCS board met with its financial and legal advisors to discuss financial media reports that an investor consortium was considering taking the company private. The Wall Street Journal had reported that Blackstone Group and Global Infrastructure Partners would seek to acquire KCS in a deal valued at $21 billion.
On Aug. 17, KCS received an unsolicited proposal from a consortium — Party A — to acquire KCS for $195 per share in cash. The KCS board met the next day and concluded the company would be better off remaining independent.
Four days later, Canadian Pacific CEO Keith Creel called KCS CEO Patrick Ottensmeyer to propose a merger of equals. Such a deal, Creel said, would face the least amount of regulatory uncertainty because it was an end-to-end merger that would unite the two smallest Class I railroads.
Later that week, Party A called Ottensmeyer to request a meeting to further discuss a potential deal.
The next week, Ottensmeyer's phone rang again: It was Canadian National CEO JJ Ruest. If KCS was interested in a sale, Ruest said, CN would be interested. KCS took no further action at the time.
On Aug. 28, the KCS board told Ottensmeyer to meet with Party A. The board then considered the potential financial ramifications of a merger with CP and decided to hold off on entertaining CP's offer until getting more information from Party A.
On Aug. 31, Party A boosted its offer to $208 per share in cash. The KCS board met Sept. 2, discussed Party A's offer and the potential CP deal. But the board again concluded KCS would be better off remaining independent.
The flurry of activity subsided, and the KCS board met twice to consider a range of merger scenarios involving Party A and "various railroads who could be potential buyers."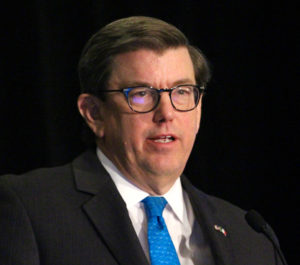 Kansas City Southern CEO Patrick J. Ottensmeyer (Trains: David Lassen)
Then on Nov. 17 came another unsolicited offer: An unnamed Class I railroad wanted to acquire "a portion of KCS's assets." Ottensmeyer reported the conversation to the KCS board, but KCS took no further action.
Six days later Party A was back, this time with a sweeter offer worth $230 per share in cash. The KCS board met on Dec. 2 to discuss the offer and to consider contacting CP and potentially other railroads to determine their interest in submitting a proposal to acquire KCS.
The board decided Party A's offer wasn't high enough, but began talks with the consortium in the hopes it would raise its bid. Ottensmeyer let Creel know that KCS was considering a potential transaction but would be interested in weighing a proposal from CP.
On Dec. 7, CP proposed acquiring KCS for 0.469 shares of CP common stock and $77 per share in cash. A week later, the KCS board said the offer was too low but agreed to provide CP with confidential information so it could submit an improved proposal.
KCS talks with Party A and CP continued through early March 2021. On March 15, Party A and CP submitted their final offers. Party A's all-cash offer was $250 per share. CP's offer — 0.489 CP shares and $86 in cash — equaled $268 per share. The next day, the KCS board decided to see if CP would tweak its offer.
CP subsequently increased its offer to $272 per share by boosting the cash component to $90 per share. KCS accepted the $29 billion offer on March 20, and KCS and CP jointly announced their merger on March 21.
CN, of course, was waiting in the wings. It submitted an unsolicited offer worth $325 per share on April 20. On May 21, KCS terminated its merger agreement with CP and accepted CN's offer.
The KCS board is unanimously recommending that KCS shareholders approve the $33.6 billion CN merger in a vote that will be held on Aug. 19.
The proxy filing is available here on the KCS website.
[ad_2]

Originally Appeared Here