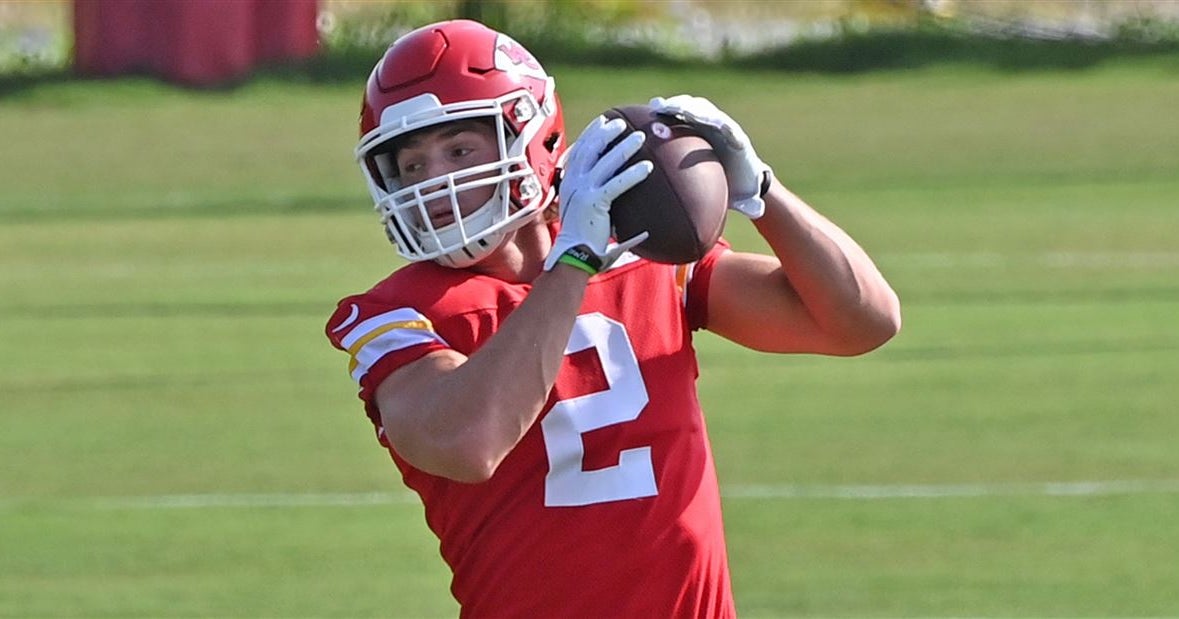 The Kansas City Chiefs are waiving wide receiver Dalton Schoen, according to a report from Herbie Teope of the Kansas City Star. It becomes the second roster that Schoen has been waived from during his career.
An undrafted free agent coming out of Kansas State in the 2020 NFL Draft, Schoen signed with the Los Angeles Chargers before the 2020 season. The team released him in September of 2020 right before the season started. Schoen signed with the Chiefs in February of 2021 but did not make his way onto the 53-man roster.
A native of Overland Park, Kansas, and Blue Valley Northwest High School, Schoen's connection to Kansas State is clearly not the only thing that brings him close to the Chiefs. Because of where he is from and where he went to school, many would have thought that Schoen's goal was always to make it onto the Chiefs' roster. But Schoen previously explained how that was not necessarily the goal he had coming into the organization.
"Starting out my college career, I would probably say no. Going to K-State was a dream come true for me. My first goal going there, though, was just to get on the field," Schoen said in May. "… It's the exact same mindset; you hit it right on the head. Going there as a walk-on and being here as an undrafted free agent, you know you're instantly thrown to the bottom of the totem pole. You just have to have that mindset that you're a street dog, you're going to show up, you're going to fight every day, you're going to do the things most other guys don't want to do or won't do. You just gotta keep fighting until you get the opportunity to prove yourself."
Schoen walked on at Kansas State but ended up earning his way onto a scholarship as he became a more relevant part of the offense. Over the course of his four-year career, Schoen caught 92 passes for 1,569 yards and nine touchdowns. In 2019, Schoen earned Honorable Mention All-Big 12 honors after leading the Wildcats in receptions (37), yards (579) and receiving touchdowns (four).
The Chiefs just completed their preseason slate and went a perfect 3-0 with wins over the San Francisco 49ers, Arizona Cardinals and Minnesota Vikings. Kansas City opens the regular season against the Cleveland Browns on Sept. 12 in a 3:25 p.m. CT kick.
Get the fastest scores, stats, news, LIVE videos, and more. CLICK HERE to download the CBS Sports Mobile App and get the latest on your team today.
Kansas City is hoping to not only make it back to the Super Bowl — which would make it three straight seasons of accomplishing that feat — but this time win it. The Tampa Bay Buccaneers dashed the Chiefs' hopes at back-to-back Super Bowls last February.
[ad_2]
Originally Appeared Here