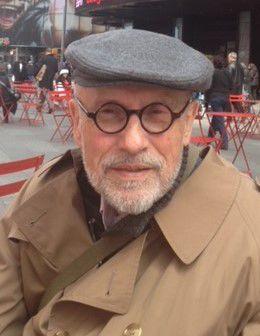 Jon Eric "Ric" Tribble passed peacefully surrounded by family on Thursday, June 2 . He was born on August 18, 1943, in Hays, Kansas. He was the youngest child of Katherine and Carl Tribble. In his youth the family traveled around Kansas. His high school years were spent in Chanute and Garnett, towns he considered home.
Ric majored in Economics at Pittsburg State College, where he was president of his fraternity. He was recruited to a Southwestern Bell Management program and soon promoted to the position as manager of the Dodge City office. Not liking the corporate life he became a manufacturers' representative in the apparel trade. In the apparel business Ric visited many towns. Influenced by his mother, a connoisseur of good food, he scouted out tasty meals.
In 1975, Ric married Mary McCurry in Kansas City. Mary, an apparel buyer, soon joined in the business of apparel sales. The couple lived in Kansas City for a while before moving to Manhattan, KS. In 1979, while keeping the seasonal apparel business, Ric opened Ric's Café. It became a favorite restaurant in town. It was perhaps the first restaurant in Manhattan to feature entrees such as steak tartare, escargot, and other continental standards. Everette Ray Call, Editor of the Emporia Gazette, hosted Norman Isaacs for dinner at the restaurant in 1980 and subsequently wrote in his regular editorial column, "there is something about the atmosphere at Ric's Café that inspires good conversation."
Ric and Mary's only son, Max, was born in 1980. In 1998, as a freshman in a lecture hall of 300 students, Max was asked by his economics professor during the first roll call if he was "the son of Ric's Café." The impression the restaurant made in those days still lingers in the minds of Manhattanites to this day.
In 1986 Ric moved his family and apparel business to Lancaster, PA. Ric became involved in the YMCA and volunteered for Hagares-CREA. In 1994, Ric and Mary founded Ric's Breads. While their mainstay operation at Lancaster's Central Market is still operating today, they also had stands at other markets in the area. Ric's Bread is still in business.
Following a heart attack in 2004, Ric received a heart transplant. In 2005 Ric and Mary sold the bakery and Ric Joined Mary in the real estate business. Several years later, with their partner Scott Haverstick, they bought the Puffer-Morris Agency where Ric served as broker. In his later years Ric volunteered for the Literacy Council in Lancaster and was co-founder and the first President of the Lancaster Central Market Trust.
Before his passing, Ric had the joy of knowing his grandson Dayton Tribble for 10 years. Dayton will remember his Pop Pop as a kind man who likes to tease him and play fun jokes.
Ric was predeceased by his siblings Carl Jr., Katherine, and Jerri Anne. He is survived by his wife, Mary, his son Max Tribble of Lancaster, his grandson Dayton Williams Tribble of Colchester, Vermont, and his sister-in-law Patricia of Summit Point, WV.
A remembrance was held at the Lancaster Theological Seminary on Friday, June 11. Gifts may be made to Lancaster Central Market Trust, 23 N. Market St., Lancaster PA 17602. Please note Ric Tribble Fund on memo line of checks. The Groff-High Funeral Home, New Holland, is in charge of arrangements. Online condolences may be posted at www.groffeckenroth.com.
>>> Don't Miss Today's BEST Amazon Deals!

Originally Appeared Here