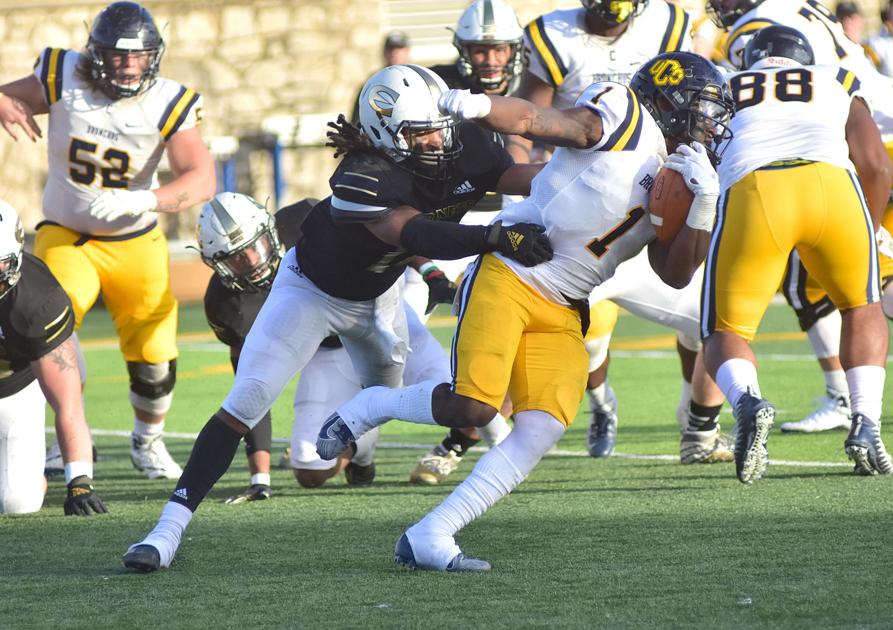 Emporia State defensive coordinator and linebackers coach Nathan Linsey is feeling pretty confident about his defense this season.
That's not to say, of course, that there aren't some question marks — there are. But it must be difficult not to feel at least a certain level of comfort when he's returning most of his starters from a dominant defense in 2019, including all three of his all-MIAA linebackers.
"That makes my life a whole lot easier," Linsey said.
Two years ago, the Hornet defense was second in the MIAA in yards allowed per game (327.4), yards per play (4.7) and touchdowns allowed (30). They were also third in points allowed per game (24.6).
With many guys from that team still wearing Hornet uniforms this year, it's feasible that Emporia State could repeat or even improve on those numbers. Aside from experience, Linsey said the greatest asset to his defense quickness.
"Our speed is impressive," he said. "I think how we run to the football, our effort, the mentality, the edge that we have on that side of the ball is what sets us apart."
Linsey plans to line up his defense in a 3-3 stack formation with a variety of variables and play a "happy medium" of zone and man coverage in addition to bringing pressure.
"I think our ability to run to the football, our football IQ is very high, which allows us to do a lot of different things," he said. "I've got an open playbook. I'm not scared to call anything with these guys. [Saturday] night at the scrimmage, I called some stuff that maybe we haven't repped in two or three practices and they executed pretty well. I think our football IQ and, like I said, our team speed will allow us to do whatever we want, really."
Defensive success starts with Emporia State's linebackers. Jace McDown was first-team all-league in 2019 while Gee Stanley and Dawson Hammes were both honorable mention all-league. Those three top a stacked linebacking corps in 2021 and are eager to get back to work on the field.
"Our linebacker room is extremely close," Hammes said. "We got some dudes all around the board. We're very deep. I think the defense has been together for two years now. Since we'll have all these guys together, we're looking forward to showing the MIAA what we got."
McDown thinks that what the Hornets accomplished defensively in 2019 was only the beginning and that the cancelation of the 2020 season might have actually played into the defense's hands.
"We implemented a defense in 2019 and that was our first year running it," he said. "We were a really good defense but I think there are still so many things that we didn't know about the defense that we had a year and a half to learn. … We're going to be able to play so much faster. We're going to be able to be so much better as a unit."
The Hornet defensive backfield returns five players with some starting experience, including three who have started for two years.
McDown said that Arich Ansley and Garrick Martin are two redshirt freshmen that fans need to watch out for this year. Linsey added that Martin, while young, has made his presence known early on in fall camp.
"He's done an unbelievable job," Linsey said of Martin. "He's worked his way up the depth chart in a hurry. A very instinctive player."
Linsey also said that redshirt freshman safety Derrick Maxwell had an excellent spring but has dealt with some injuries since then. Maxwell was expected to be back to practice this week.
The defensive line is where questions persist. The Hornets lost all-MIAA defensive ends Tre'Vaun Ammons and Parker Bass after the 2019 season and will look to replace them with some greener players.
"We've got some experience up there, I just don't know about our depth right now," Linsey said. "We're still waiting and pushing a couple guys along here. If they can have a solid week here, I think I'll feel a lot more comfortable about it."
The leader of the defensive line will be redshirt senior Marek Thompson, who will enter his fourth season of solid playing time. In 2019, he earned third-team All-MIAA honors with 30 total tackles — which was good for eighth on the team — and in 2018, he was honorable mention All-MIAA with 38 total tackles.
"It's been fun and challenging," Thompson said of becoming the anchor on the line. "We've had a lot of old guys in the room before. … It's great to be a leader, great to have guys look up to you."
Alongside Thompson will be senior Jahmek Murphy and redshirt Sophomore Jordan Williams, who both saw a modest amount of time on the field in 2019.
Linsey is particularly excited about redshirt freshman defensive end Rylan Murphy from Overland Park.
"He's just a man, he's a grown man," Linsey said. "He's strong, he's physical, it's tough to block him."
The Hornets will kick off the 2021 season at Northeastern State at 6 p.m. on Sept. 4. The team scrimmaged Saturday night in preparation for that match, and Linsey said that after nearly two years without playing a game, the season finally felt imminent.
"Being out here under the lights, reality kind of hit some guys and hit us, like, 'Hey, we're getting close,'" he said. "It's been exciting. It's good to have everyone out here practicing and getting better."
[ad_2]
Originally Appeared Here