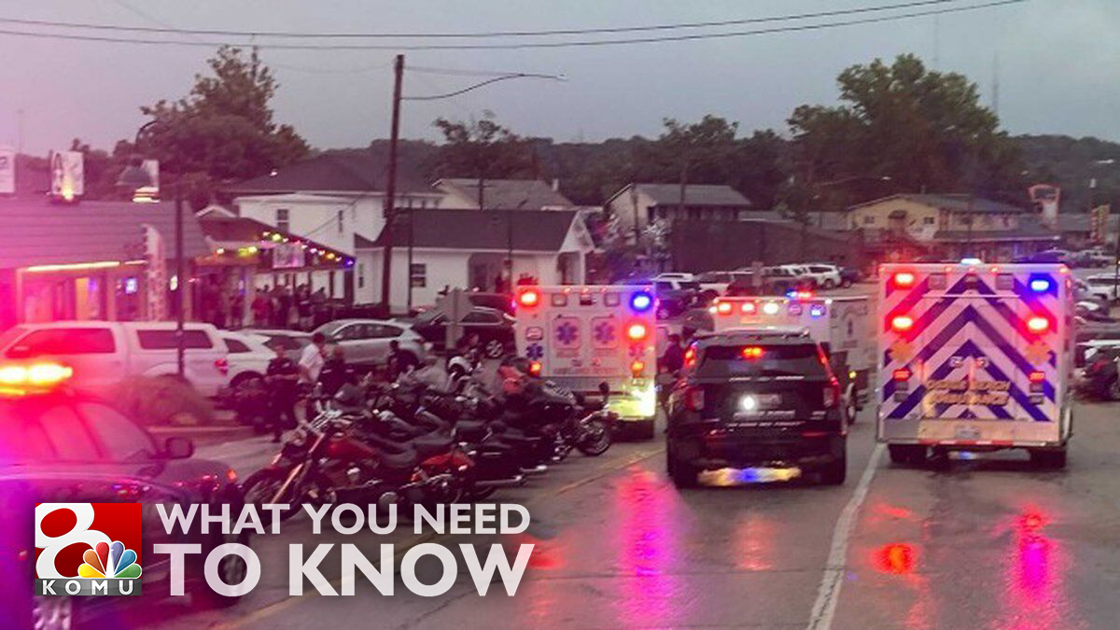 Hickory County man charged with first-degree assault after deadly shooting on Bagnell Dam Strip
A Hickory County man was charged with first-degree assault in relation to Thursday night's shooting on the Bagnell Dam Strip at the Lake of the Ozarks.
Miller County Prosecuting Attorney Benjamin Winfrey charged Tonka Way-Con Ponder, with armed criminal action as well as the first-degree assault charge. The shooting Thursday night left one dead and at least four injured.
A probable cause statement said the Highway Patrol was able to retrieve surveillance video that showed a fight outside Casablanca Pub and Grill between members of "opposing motorcycle clubs" around 7:45 p.m.
The video showed someone described as B.C. retrieving a gun and aiming it at Ponder, who was fighting another individual at the time. Ponder then drew his own firearm and shot B.C.
The case is still being investigated by the Missouri State Highway Patrol.
UPDATE: Man charged with first degree murder in Moberly shooting
Jerry L. Fitzwater, the man who shot a Moberly man last week, was formally charged with first degree murder.
Prosecutor Stephanie Luntsford amended the first degree murder charge against Fitzwater on Friday. In addition to the first degree murder charge, Fitzwater was also charged with criminal action and unlawful use of a weapon.
The 79-year-old shot Mitchell Duane Nickerson in Moberly on July 8 because he claimed Nickerson was selling illegal drugs and decided to take manners into his "own hands."
Truman VA, SSM Health adjust visitor policies due to rise in COVID-19 cases
Amid an increase in coronavirus cases across the state, Truman VA and SSM Health will adjust its visitor policies.
Starting on Friday, Truman VA's visitation hours are now Monday through Sunday 1 to 6 p.m. and patients are only allowed one visitor per day.
COVID-positive patients will not be able to receive visitors unless under extenuating circumstances.
Success! An email has been sent to with a link to confirm list signup.
Error! There was an error processing your request.
SSM Health – St. Mary's Hospital in Jefferson City will adjust its visiting policies starting on Monday. All visitors in the hospital will be restricted except in the follow circumstances: 
Family Birth Center patients are allowed two support people for the duration of the stay.
Pediatric patients must have one guardian at all times.
Patients having a surgery or procedure are allowed one support person.
Limited visitors may be allowed for end-of-life situations with approval from nursing leadership.
Lakewood Apartments tenants face maintenance issues due to lack of support
A Columbia apartment complex is facing maintenace issues dating back to last year due to a lack of funds from owners.
The manager of Lakewood Apartments told KOMU 8 News that Yarco, the complex's Kansas-City based owner, has not made any effort to help the complex. That means the apartments do not have enough funds to pay workers and it has not received any financial support.
These issues can be seen in the grass at the complex not being cut since the beginning of July. Management did not have enough funds to pay a maintenance crew to cut the grass.
A front desk attendant and general maintenance worker also quit due to being underpaid or not paid at all.
Several residents at the apartments have also reported facing issues in their units like collapsing ceilings and mold.
Missouri among the highest in new unemployment claims
Missouri's 25.4% increase in unemployment benefits applicants over the past week is among the 10 highest increases in the country.
NBC News reported that there were 4,964 new unemployment claims in Missouri over the past week, over 1,000 more than the 3,958 claims the week before.
Although this statistic comes amid a national worker shortage in the business and hospitalities industries, one local employment center said the two are not necessarily related to one another.
First Alert Weather Forecast
Morning temperatures on Saturday are expected to be in the upper 60s, and patchy fog is possible. As the day goes on the fog will clear out to partly cloudy skies with highs in the middle 80s. 
[ad_2]

Originally Appeared Here