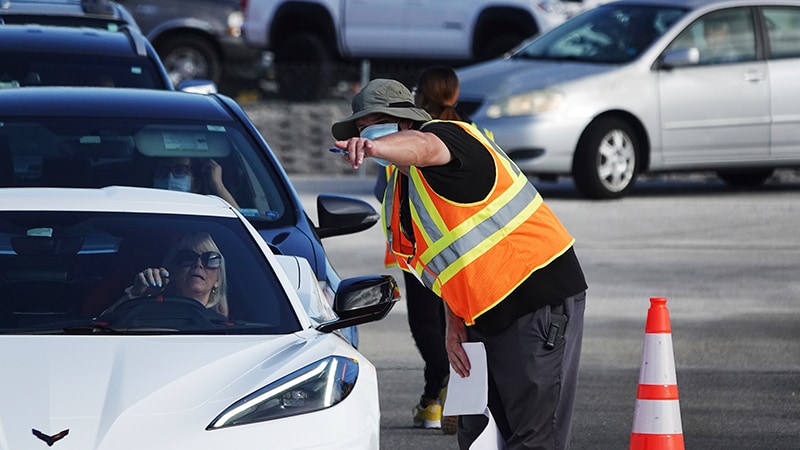 Editor's Note: For the latest COVID-19 news and guidance, please visit Medscape's Coronavirus Resource Center.
The two leading providers of electronic health records (EHR), Epic and Cerner, recently announced that they are supporting mass vaccination centers with specially developed software. They are among a number of EHR suppliers and other technology companies that have started providing technical assistance with the national COVID-19 vaccination effort.
Epic said its software is now being used to support 100 mass vaccination sites across the country. These sites have the capacity to deliver 300,000 vaccinations per day, the company said. Approximately 500,000 vaccinations are performed daily with Epic software from these mass locations, as well as through traditional clinical environments. The company plans to add an additional 100 vaccination sites over the next 30 days.
Epic said the solution includes patient targeting tools to reach priority populations, patient planning, mobile workflows and real-time reporting to health authorities. In addition, according to Healthcare IT News, the MyChart patient portal is used to automatically plan second vaccine doses and document a patient's vaccination status.
Many of the mass vaccinations are administered by health systems in collaboration with state and local health authorities. Systems supported by Epic include:
Novant Health, North Carolina, which uses Epic to schedule vaccinations at mass vaccination sites and pop-up events in the community. To date, Novant has given 63,000 doses of vaccine, Epic said.

UC Health (Colorado) using an updated version of Rover, Epic's mobile app for healthcare providers, at a mass injection site in Coors Field, Denver. The EHR is also used to invite and schedule patients for admissions to UC Health's 11 vaccination clinics. To date, UC Health has given more than 120,000 vaccine doses.

Cooper University Health Care (New Jersey), which Epic, in partnership with Jefferson Health, has expanded to include the Camden County Vaccination Center at Camden County College. Patients use MyChart to register for vaccination appointments.
Cerner said in a blog post that 175 customers in 11 countries have installed the company's bulk vaccination solution. These include Truman Medical Centers / University Health in Kansas City, Northern Light Health in Maine, Cook County Health Department (Chicago), the US Department of Defense, and the US Coast Guard. In addition, the NHS Foundation Trust at Milton Keynes University Hospitals is using the Cerner solution in the launch of vaccines in the UK.
Cerner's hospital-facing software helps clinicians enroll patients and identify, manage, and record vaccinations. The provider found that its EHR also provides relevant data to streamline the screening process as well as data on patient allergies.
More providers are trying to get vaccinations
Other EHR providers have also optimized their software to prepare them for use in vaccination efforts. This includes some EHRs that are mainly used by outpatient doctors like NextGen, Greenway, and athenahealth. According to a recent survey by the Primary Care Collaborative, fewer than 20% of primary care physicians are currently administering vaccines to their patients.
Zocdoc, which offers an online consumer appointment booking app, has a new feature that allows people to find COVID-19 vaccine appointments in their area if they are part of an eligible demographic. Zocdoc is available in nine major US cities.
Google, Microsoft, IBM, and Salesforce have also jumped into the fray, offering different types of vaccine support. However, their solutions lack the connectivity between providers and government health authorities that some EHR providers provide. In addition, clinicians using these external solutions must exit their EHR workflow and log into a website.
Epic and Cerner are among the companies involved in the Vaccine Credential Initiative, which is developing a standard format for digitally recording vaccination status. The initiative announced in January has a wide range of stakeholders, such as the Mayo Clinic, Microsoft, MITER, Oracle, Salesforce, the CARIN Alliance, and Safe Health.
The aim of this initiative is to create open, interoperable standards that can be used in cards that show patients' vaccination status for a safer return to work, school, travel and other activities.
The recordings are stored on SMART Health Cards, which can be accessed via digital wallet apps or QR codes.
For more news, follow Medscape on Facebook, Twitter, Instagram and YouTube.