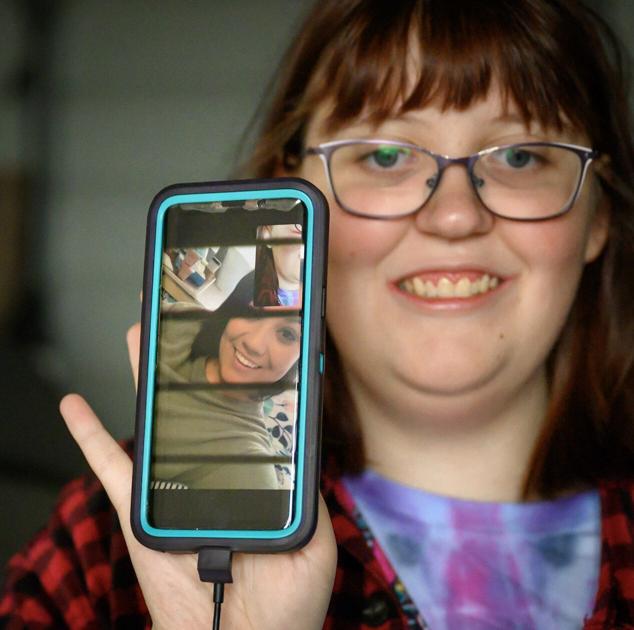 The local disc golf community came together in force on Sunday afternoon to support one of its own who is battling leukemia.
During the three years since Emporia native Ashley Rodak first received her cancer diagnosis, she has accrued a daunting amount of medical debt. Seeing this, two of her disc golfing friends — Lupe Esquivel and Derek Riley — decided they needed to do something to help her out.
They organized Ashley's Army Cancer Benefit Disc Golf Tournament, which was played at Riley's private disc golf course east of Emporia.
"Maybe two years ago, I had a group of friends that had a friend of the family that their child was sick with cancer as well, so we threw a big fundraiser," Esquivel said. "It seems like the community here's really, really good about helping each other out, so that just kind of worked out as, hey, let's just try another fundraiser for Ashley and see what happens."
Esquivel said that he and Riley had expected a maximum of 40 disc golfers to sign up for Sunday's tournament. Instead, that number was easily doubled.
Riley said that the event had raised more than $2,000 for Rodak's medical bills and choked up when he reflected on the generosity of the disc golf community.
"It's just amazing," he said. "It makes me happy. It just makes me real happy to see the community, how much they care, supporting her. It helps her out a lot too."
While Rodak is involved with the disc golf community herself, Esquivel estimated that only about half of the disc golfers who competed on Sunday had a personal connection to her.
"A lot of the disc golf community, I interact with a ton of them and so, thankfully, I've been in the good graces of them and when I reached out to a lot of people, they said, 'Yeah, let's do it. I want to show up and play,'" he said.
Rodak was unable to be at the tournament in her honor because she had returned to inpatient care at the University of Kansas Medical Center in Kansas City, Kan., on Friday, where she is receiving chemotherapy before a bone marrow transplant.
However, her fiance and partner of three years Chris Lutes was there and said she was doing well.
"She's definitely in high spirits," Lutes said. "Yesterday, she was getting chemo and she said it didn't bother her so she wanted to go for a walk while getting chemo. She's very high-spirited. She doesn't get down very easily."
From her hospital room — which she has decorated with pictures, string lights and a brightly colored comforter — on Saturday, Rodak posted on Facebook that, "I had to get on here and brag a little bit, but I walked a mile while [receiving] chemotherapy. Cancer has nothing on me."
While the past few years have been difficult for the couple, Lutes said that Rodak has the right personality to persist.
"It's definitely been a struggle, but like everyone says, she's tough and she fights through it," he said. "This [tournament] is amazing. It's amazing. So much support."
In addition to funds raised through player registrations, Esquivel and Riley connected with community partners for the tournament's raffle. They received donations from Do-B's, Emporia Main Street, The Farm at Quail Valley in Winfield and Riley's Fireworks.
"It's definitely nice to see that it's bringing more money that goes towards her and to her getting better," Riley said.
Esquivel said that the significant turnout at the Ashley's Army Cancer Benefit Disc Golf Tournament highlighted the strength of the disc golf community in the area.
"The fact that people are willing to give up a couple hours to support a family in need is pretty huge," he said. "It tells you how close the community really is and we can always be bigger and better one step at a time. But the community is very, very, very awesome."
Esquivel urged anyone else who might be going through a difficult time to speak up.
"Life's hard. There's a lot of people struggling," he said. "Don't be afraid to reach out. We're always willing to help, but we don't know if you don't ask."
To keep up with Rodak's journey and to find more opportunities to support her, follow the Ashley's Army Facebook page at https://www.facebook.com/ashleyrodaksarmy.
[ad_2]

Originally Appeared Here