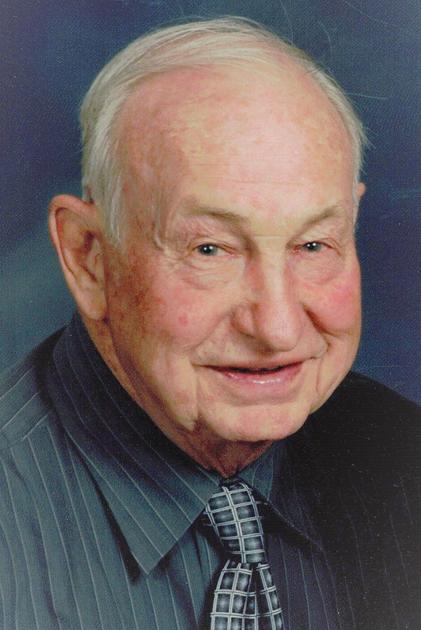 Clifford Lee Abel was born March 8, 1930 in Eudora, Kansas, the oldest child of James and Josephine Abel. He was preceded in death by his wife of nearly 69 years Merilyn Abel (less than four months ago), and his two brothers James and Duane Abel. Cliff is survived by his sisters Colleen Trude and her husband John and Donna Brown and her husband Bob, and his sister-in-law Virginia King and her husband Merv. He also leaves behind his daughter LeAnne Trozan and her husband Peter, sons Merl Abel and his wife Dori, and Dwight Abel and his wife Kim. He had four grandchildren – Jennifer Youngs, Katrina Pound, Andy Trozan and Paul Trozan. He has four great grandchildren – Emery, Allison and Olivia Pound and Phoenix Youngs. His extended family includes many dearly loved nieces and nephews and their families.
Cliff grew up during the days of the depression in rural eastern Kansas on farms near Newman and Oskaloosa and learned the value of hard work and responsibility from his parents. He flourished in that tight-knit community and discovered his unique athletic ability as a track athlete, winning the state championship in the mile as a high school senior. He was recruited to run track at Kansas University under Coach Bill Easton and achieved his personal best time of 4:17 in the mile his senior year. He also achieved All American honors in 1950 at the NCAA Championships with the KU Cross Country Team.
While attending KU he met the love of his life Merilyn Jean Richards. They were married on Easter Sunday, April 13, 1952, committing themselves to a lifetime together that only death separated. Although deeply involved in his coaching and business career, family was always his number one love and priority. He was very proud of his three children and gave them the stability and security and example of a good husband and father.
As the family grew, Cliff successfully coached track and field at both Northeast High School & Shawnee Mission West High School. At the same time, he & Merilyn designed and built their own home in Overland Park. He was a leader and active member of the United Methodist church and volunteered in numerous community activities throughout his entire life.
Then in the 70s Cliff relocated his family to California to develop track programs at the college level. In 1975 he was voted NCAA Coach of the Year in Division II for his success at California State University at Northridge, leading the Matadors to the men's national championship that year. While there, he founded the Northridge Relays, coached seven All Americans, and achieved more than 65 top performances in the CSUN record book. In 2014 he was inducted into the Northridge Athletic Hall of Fame. After three years coaching at Long Beach State at the Division I level, Cliff retired from coaching and concentrated on his investment properties and small business.
With seemingly inexhaustible energy, many summers were spent traveling with the family in the Winnebago motorhome, creating little side businesses, or getting together with extended family. Then in 1997, Cliff and Merilyn designed and built their dream home in Estes Park. With some subcontracting, Cliff did much of the work himself. This has been the site for many celebrations and get-togethers with family. For many months he was able to stay at home with the support of loving caregivers and hospice support and passed away on May 12, 2021. He will be deeply missed by his family who intend to continue his legacy of love for family, love for adventure, and love for hard work. Please visit www.allnuttestespark.com to leave a message to the family.