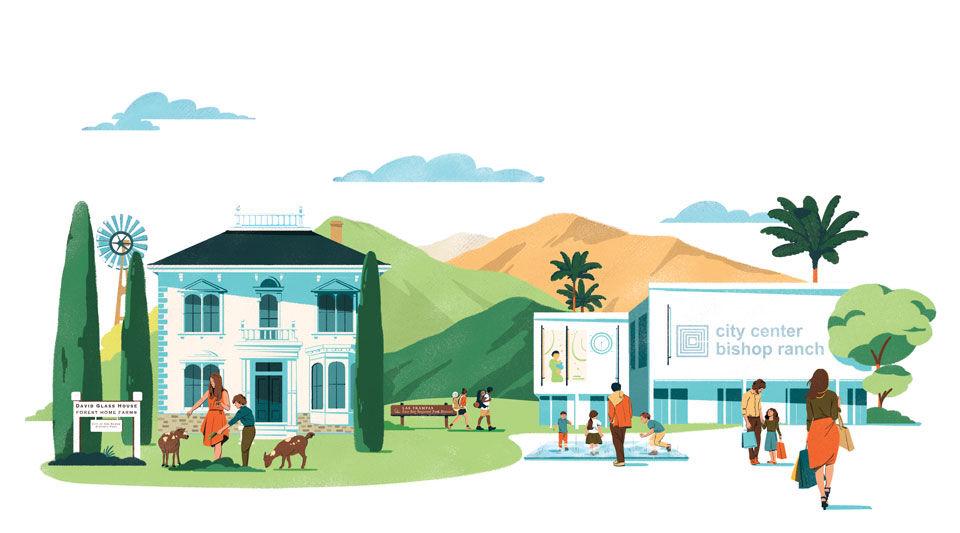 Illustration by FagoStudio

Tucked in between Danville 
to the north and Dublin to the south, San Ramon may be best known as the home of the sprawling Bishop Ranch office park development. But there's more—much more—to this vibrant city of some 79,000 residents. Sure, Bishop Ranch has played a major role in the local economy and population growth, and it deserves major props for bringing the world-class, Renzo Piano-designed 
City Center shopping, dining, and entertainment complex to town. But a closer look at San Ramon reveals that there's more than meets the eye. With a plethora of open spaces featuring superb hiking and biking trails, easy access to San Francisco and local airports, and a booming real estate market, San Ramon has long been an attractive locale for people (and businesses) seeking an improved work-life balance. It's also a rewarding destination for visitors looking for that ultimate trifecta of outdoor activity, fabulous shopping, and great food. 
 Note: Some locations may be closed due to COVID-19. Confirm the status of your destination before you go.
The Bishop Ranch business park sits alongside Annabel Lake.

Sunset Development Company

DID YOU KNOW?
Athletes, heroes, and historical figures can all lay claim to San Ramon as part of their heritage.
A WINNING PEAR
Bishop Ranch was a thriving 
agricultural property in the late 1800s and early 1900s. It was home to cattle, purebred sheep, and fields of grain, walnuts, and fruit, including the largest orchard of Bartlett pears in the world.
ENERGY SOURCE
San Ramon might seem an unlikely spot for a multinational energy company, but Chevron has had its corporate headquarters in the city since 2002.
THE SPORTING LIFE
Among the pro athletes who've lived in San Ramon are pitchers Mark Appel (Houston Astros) and Dave Hamilton (who earned three World Series titles with the 
Oakland A's), tight end Austin Hooper (Cleveland Browns), wide receiver James Jones (who won a Super Bowl ring with the Green Bay Packers), and soccer stars Andre Rawls and Andrew Wiedeman.
SAFETY FIRST
In 2020, San Ramon was named the ninth safest city to raise children in the United States (this annual study by security company Safewise is based on FBI crime stats). San Ramon was the top-ranked California city on the list.
HOMETOWN HERO
Thomas E. Burnett Jr. died on 
September 11, 2001, during the terrorist attack on United Airlines Flight 93. The San Ramon resident was flying home to his wife, Deena, and three children when the plane was hijacked. Several passengers, including Burnett, subdued the terrorists—"Don't worry, we're going to do something," Burnett told Deena during one of four calls he made home during the flight—and the plane crashed into a Pennsylvania field. A plaque recognizing Burnett and others lost on 9/11 was erected in Memorial Park, located off Bollinger Canyon Road.
IN FROM THE COLD
The Cold War sparked the construction of Nike missile sites around the country, including one in Bollinger Canyon and another in
Rocky Ridge. The facilities— which housed ground-to-air
missiles—ceased operation in 1959.
HISTORY IN THE MAKING
Archivists have detailed several
local connections to famous figures. Notorious robber Black Bart robbed a stagecoach at the top of Crow Canyon Road. Clement Rolla Glass (one of the children of San Ramon settlers Eliza and David Glass) hired Butch Cassidy and the Sundance Kid to work in a Bolivian mine; just months after the two men quit working at the mine (under pseudonyms) they died in a shoot-out with authorities. San Ramon families were among those who came west in 1846 with the Donner Party, eventually splitting from the group and going a safer route. William Fowler, who was married to a member of the pioneering Harlan family, led the third rescue party.
ON THE MAP
In 2018, Venkat Ranjan, an eighth grader at Windemere Ranch Middle School, won top honors at the National Geographic Bee. The victory at the annual geography contest sponsored by the National Geographic Society earned him a $50,000 college scholarship and a trip to the Galapagos Islands. The winning question? "Lebanon has a population most similar to which South American country?" (Answer: Paraguay.)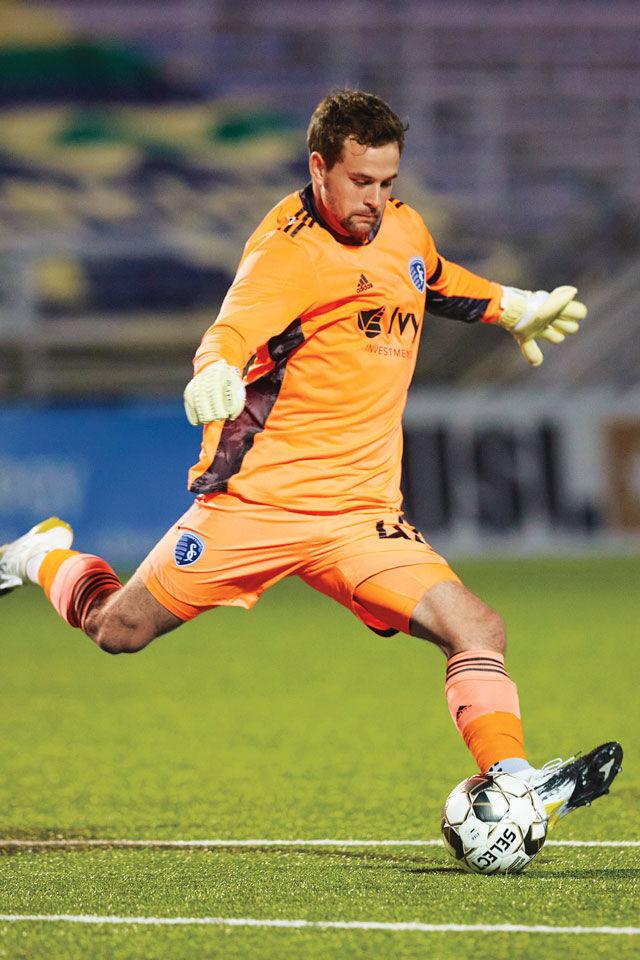 Professional soccer player Remi Prieur grew up in San Ramon, where he learned to play the sport.

Courtesy of Sporting Kansas City

Getting His Kicks
Remi Prieur's dream of playing professional soccer began in San Ramon. The 23-year-old goalie for the Sporting Kansas City soccer club was actually born in Austria, but his family moved to San Ramon when Prieur was 2. He fell in love with the game while growing up in the community, where he had abundant access to competitive leagues and training programs.
"All the friends that I knew growing up played some sort of soccer," says Prieur, who attended California High School and Saint Mary's College in Moraga before going pro in 2020. "San Ramon had teams that wanted to help you improve and get you to the next level. There is a great system for kids who want to advance in the game."
Q: Can you take us through your pathway to becoming a professional soccer player?
A: My serious pathway started by playing with the San Ramon Football Club when I was 9 or
10. I then went to Ballistic United in Pleasanton, 
then went on to play for the San Jose 
Earthquakes Academy. I spent my entire high school time with them.
Q: Did every moment of your childhood free time involve soccer?
A: No. I had great times with friends riding bikes, going to the park, and playing video games. In December, I went back to San Ramon and saw the City Center that has opened. We didn't have that when I was younger.
Q: What was it like to get drafted at the 
professional level?
A: It was so exciting. I was at my girlfriend's house, and we were watching the draft on TV and saw my name pop up. It was heartwarming to know that there was a professional team interested in my athletic capabilities.
Q: Your first year in the pros coincided with the coronavirus. What has it been like behind the scenes?
A: It was definitely intense. The season was suspended for two months, and we had to 
work out at home by ourselves. We were not able to really train until early May, and even when that first started it was individual 
training, not as a team. Finally, the league 
developed a revised schedule so we could play. We spent a lot of time traveling to St. Louis, Louisville, and Indianapolis, where we played games with three other teams in our division. We had a young team, and it was a new experience to play that way. We overcame a lot. I can't wait to start the new season.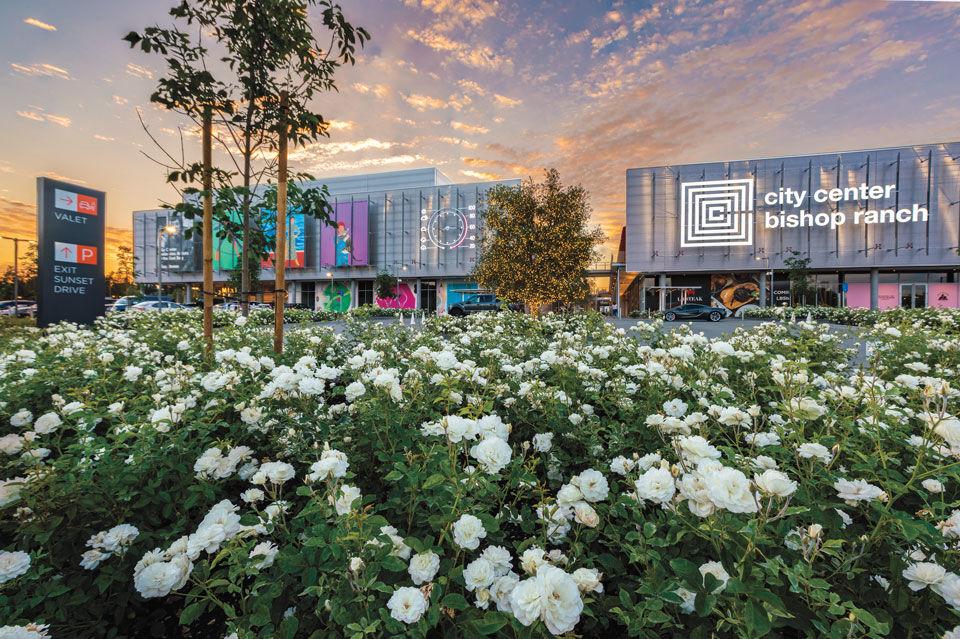 City Center Bishop Ranch, an upscale shopping center, opened to the community in 2018.

Courtesy of City Center Bishop Ranch

OUT AND ABOUT
Scenic hiking trails, world-class golf, and top-tier shopping and entertainment venues are some of San Ramon's leading attractions.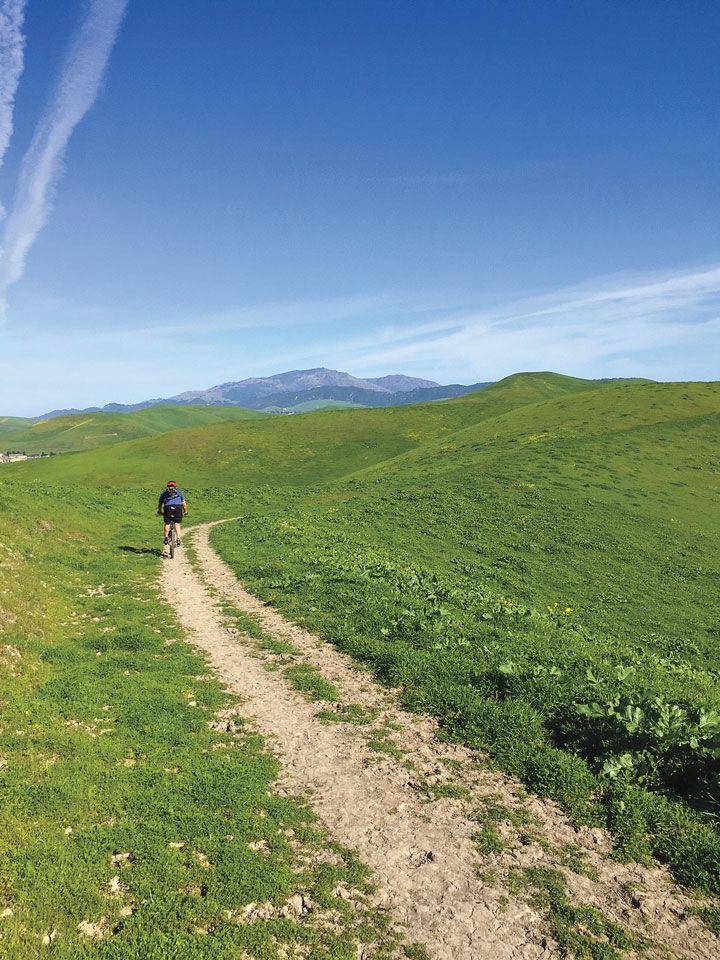 Bike along the Tassajara Ridge Trail.

Keith Haase/Courtesy of city of San Ramon

HIT THE TRAILS
Hikers, cyclists, bird-watchers, horseback riders, and outdoor enthusiasts of all kinds won't want to miss Las Trampas Wilderness Regional Preserve, one of the jewels of the East Bay Regional Park District. At more than 5,000 square acres, the wilderness has 
a wide range of habitats, challenging trails, and sweeping views of Mount Diablo, the Carquinez Strait, and beyond.
Another option for hikers is 
the Tassajara Ridge Trail, an 
8.1-mile loop that begins at the Tassajara Ridge Staging Area on Windemere Parkway. Suitable for all skill levels, the trail offers views of San Ramon, Dublin, 
Danville, and Mount Diablo.
GREAT ESCAPES
The idea of escaping from confinement has extra appeal these days, given that we've all been sheltered in place for so long. So why not test your get-me-outta-here skills at Zscape Games, one of the Bay Area's escape room venues? With options to break out of a prison cell or flee a toy box, among 
others, Zscape is both a mind 
game and a physical challenge.
SHOP TALK
When City Center Bishop Ranch opened its doors in 2018, it was a major game changer for San Ramon in several ways.
First, the much-anticipated shopping, dining, and entertainment center was designed by 
Renzo Piano, which meant that 
a sophisticated complex by one 
of the world's leading architects would be part of the city's fabric.
Second, City Center quickly became home to some of the finest dining in town, with outposts of the acclaimed Slanted Door restaurant among its offerings.
Third, it became an exciting destination for residents and visitors alike, with its 10-screen movie theater, The Lot; an Equinox fitness club; and a spacious 
central plaza.
And last, and perhaps most 
notably, it elevated regional shopping opportunities exponentially. City Center Bishop Ranch has become one of the East Bay's premier retail meccas, with big-name retailers like Anthropologie, Pottery Barn, Sephora, and Williams Sonoma; fine jewelry stores like Heller Jewelers; and thoughtfully curated boutiques like M by 
Maggie Rizer and Trader.
The complex also features Alexander Square, named 
after Alexander Mehran Sr., 
chairman of the board for Sunset Development, which developed the property. He's also the father to Alexander Mehran Jr., CEO of Sunset Development. Here, all kinds of family-
friendly events—from live 
music performances to holiday festivities—animate the space 
on a regular basis.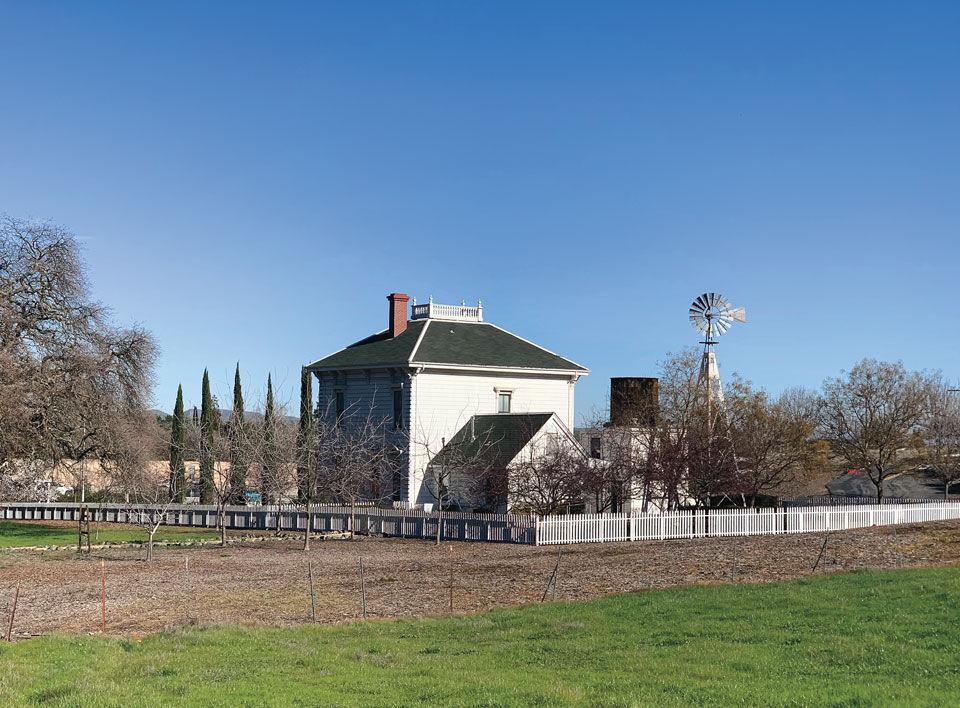 Tour the Glass House Museum.

Courtesy of city of San Ramon

DOWN ON THE FARM
A gift to the community from longtime resident Ruth Quayle Boone, Forest Home Farms Historic Park is a 16-acre oasis that celebrates the agricultural history of the San Ramon Valley. Horses, chickens, and sheep are in abundance here—and if you can time your visit to the park's popular Sheep Shearing Day, you'll be in for a treat. Also on the property is the David and Eliza Glass House Museum, a white Italianate Victorian home built in 1877. Open for tours on Saturdays at 1 p.m. (and also by appointment), the house gives a fascinating glimpse of life in the late 19th and early 20th centuries.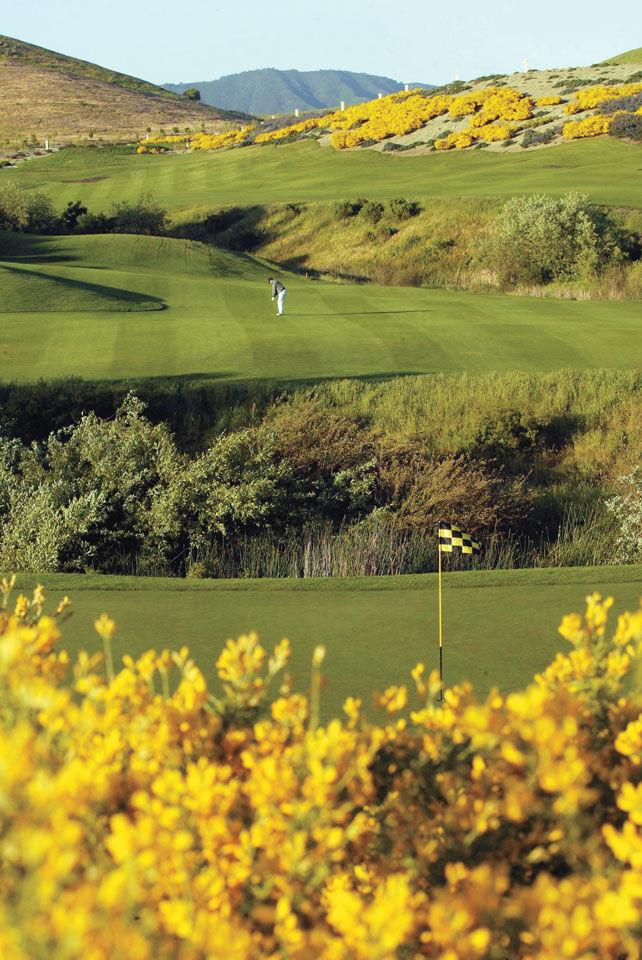 Hit some balls at Bridges Golf Club.

Courtesy of Bridges Golf Club

PARK PERKS
San Ramon has a staggering 58 parks, ranging from small pocket
parks to large open spaces. Two standouts are Memorial Park, which features bocce courts, a baseball field, a BMX track, and a plaque honoring those who died on 9/11; and Central Park, where 
a skate park, basketball hoops, and a splash pad attract visitors. Most years, on Memorial Day weekend, Central Park is also home to the Art and Wind Festival, 
a popular event with music, 
dance, crafts, food courts, and 
professional kite-flying demonstrations. (The festival was 
canceled in 2020; check 
sanramon.ca.gov for information about this year's plans.)
TEE TIME
San Ramon is blessed with 
open spaces, making it an ideal location for a scenic game of golf, and there are several excellent courses to choose from. The semi-private Bridges Golf Club has a beautifully landscaped 18-hole course, lighted driving range, and restaurant and bar. Canyon Lakes Golf Course is a public, 18-hole course; it also offers bocce courts. And the San Ramon Golf Club, another public course, has an easily accessible location just off 680 and is suitable for players of all skill levels.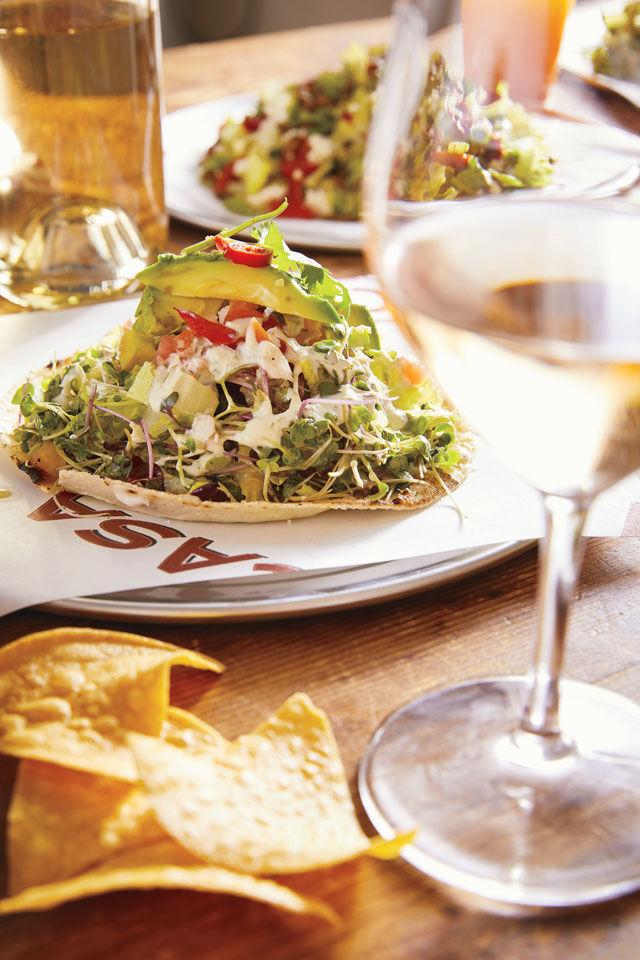 Head to C Casa for authentic Mexican food—and massive tacos.

John Bedell

SIP AND SAVOR
From casual brewpubs to phenomenal 
international fare, San Ramon has dining and drinking options for every taste and budget.
EAT IT UP
Cuisines from across the globe make San Ramon one of the most exciting restaurant scenes in the region.
Andaman Thai Cuisine
Located in the Marketplace at San Ramon, Andaman serves Thai classics (curries, stir-fried noodles, pad Thai) in generous portions. Start with appetizers such as satays and crispy egg rolls called Lady Fingers. For the main event, check out the not-so-secret "Secret Menu," which features—among other choices—Seafood Champion, a mix of fresh seafood served in a coconut. andamankitchen.com.
The Brass Door
Originally opened in 1946 as the 8/5 Club and then renamed the Brass Door in 1955, this old-school steak house has long been a local favorite. While the tender prime rib (and prime rib French dip sandwich) is the signature dish, the diverse menu includes fresh seafood, hearty soups, tasty pasta, and more. brassdoor.com.
Brothers Kitchen
For Korean cuisine, head to 
Brothers Kitchen for a quick bite 
or takeout. While the menu is 
on the smaller side, the quality of this comfort food does not disappoint. The bibimbap, pork belly, sweet and sour fried dumplings, jajangmyeon, tangsuyuk, and 
beef bulgogi are authentic and delicious. brotherskitchens.com.
C Casa
This contemporary taqueria boasts responsibly sourced ingredients and a gluten-free menu. Whether you're into standards (steak, 
carnitas) or premium proteins (buffalo, crab, or cabernet-braised short ribs), tacos arrive on corn tortillas piled high with fresh veggies and zippy sauces. Other entrée options include loaded quesadillas (goat and Oaxacan cheeses), rotisserie chicken, and generous "small" plates. myccasa.com.
Clementine's
"Where the Bayou meets the Bay" is the slogan at this comfort-food destination with a Southern 
Louisiana twist. Breakfast here is tops: seafood Benedict with crispy crab cakes or fried oysters, Cajun avocado toast, and beignets. Supper brings fried green tomatoes, jambalaya, andouille sausage–studded mac and cheese, and fried chicken and mashed "taters" smothered in gravy. Bonus: Live music most Friday and Saturday nights. clementinesca.com.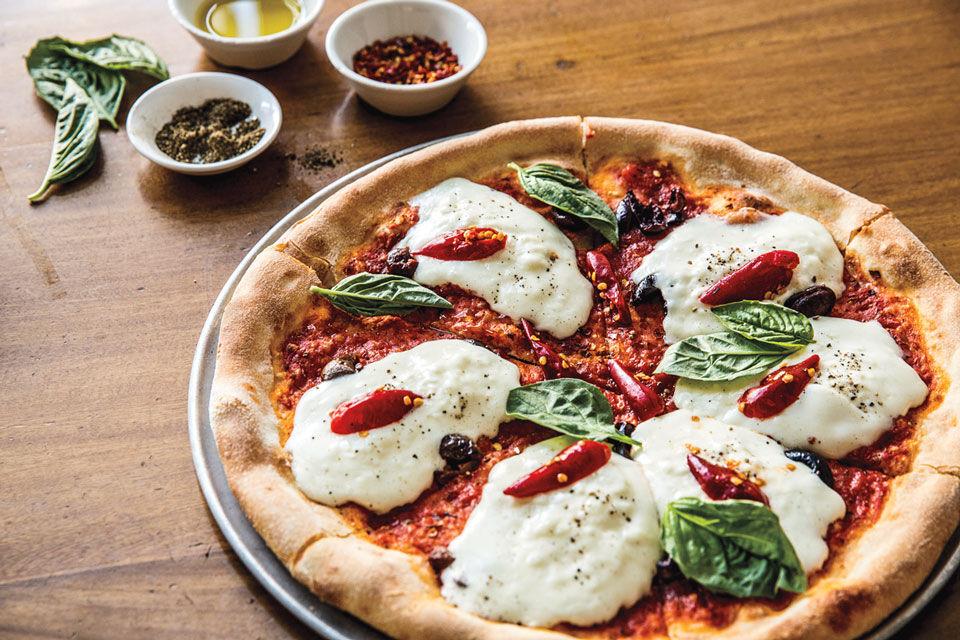 Delarosa offers Roman-style pizza and Italian classics.

Aubrie Pick

Delarosa
The San Ramon outpost of this San Francisco favorite can be found on the first level of City Center Bishop
Ranch, where it serves up the thin-crust Roman-style pizza for which it's justifiably well known. An appealing selection of pastas and paninis round out the menu, and communal tables and outdoor seating make this a convivial spot for lunch or a super-casual dinner. delarosasf.com.
Gianni's Italian Bistro
Named after owner Gianni Bartoletti, this place is perfect for date nights and special occasions. Start with house-made meatballs simmered in tomato basil sauce and served with 
garlic bruschetta. Move on to pasta (such as veal ravioli with sage demi-glace), or opt for seared duck breast drizzled with spicy balsamic reduction. Dine on Monday to support local nonprofits with the restaurant's Tips for Change program, which has raised more than $639,000. giannissanramon.com.
Sakura's
Since 1989, this Japanese spot—which recently moved from its longtime location over to San Ramon Valley Boulevard—has been wowing customers with its sustainable seafood, pristine presentation, and reliable customer service. Sakura's serves up some of the best nigiri, sashimi, and sushi rolls (go for the Ocean's 13 ), along with bento boxes and udon noodle soups. sakurasanramon.com.
The Salt
The Salt's refined Indian-inspired menu (which changes regularly)
features must-haves such as pappardelle with lamb and the crowd-pleasing chicken and waffle sliders. Self-described as 
California cuisine with international influences, the restaurant is one of the city's top dining experiences. thesaltsanramon.com.
The Slanted Door
When the San Ramon branch of this innovative Vietnamese restaurant opened at City Center in late 2018, local foodies had just cause to celebrate: Chef Charles Phan is one of San Francisco's culinary legends. The dinner menu features his signature shaking beef and organic chicken claypot, but be sure to start with appetizers such as banh nam (banana leaf-wrapped rice dumpling). The lunch menu has some of the same dishes, along with a selection of soups and noodle bowls. This is hands-down one of the premier restaurants in the East Bay. slanteddoor-sanramon.com.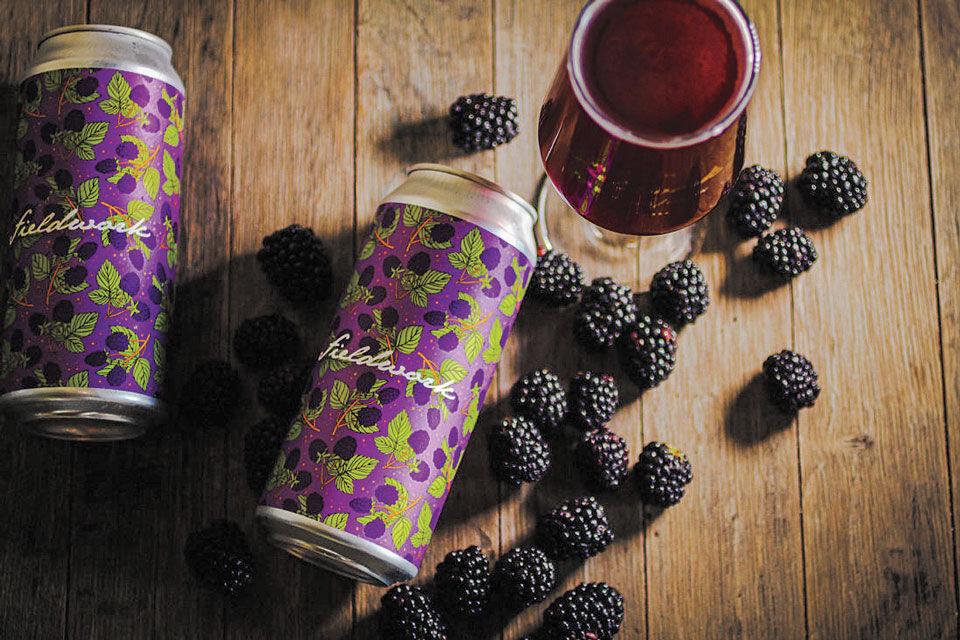 Fieldwork Brewing has an eclectic selection of beer, such as the Boysendairy Kettle Sour Ale.

Courtesy of Fieldwork Brewing Company

DRINK IT DOWN
San Ramon has no shortage of bars and breweries, most of which serve top-shelf beer made right here in the East Bay.
Canyon Lakes Brewing
This brewery opened in 2017, as part of the Canyon Lakes Golf Course. The patio offers gorgeous views of the surrounding links, making it an ideal place to sip suds and enjoy beer-maker dinners, bocce, and live music. canyonlakesbrewery.com.
Firehouse 37
Firehouse 37 is a spacious sports bar that provides a family-
friendly atmosphere. The menu is packed with pasta, pizzas, salads, sandwiches, and other pub grub, available for patio dining, delivery, and takeout. The bar keeps an impressive selection of 44 beers on tap. firehouse37.com.
Fieldwork Brewing
This spring, Fieldwork Brewing in City Center Bishop Ranch is expanding to include an enlarged taproom and outdoor beer garden, as well as a new food 
program featuring Neapolitan-
inspired pizzas. Visitors can choose from specialty brews; virtual tastings are also available for groups of eight or more—just order four beers from the menu to be delivered anywhere in California, and a Fieldwork expert will 
guide the tasting at no additional cost. fieldworkbrewing.com/san-ramon.
The Hop Yard American Alehouse and Grill
This friendly pub features a patio for outdoor dining and drinking and an outstanding beer selection. There are more than 26 brews 
on tap, including California beers like Little Sumpin' 
Sumpin'. hopyard.com.