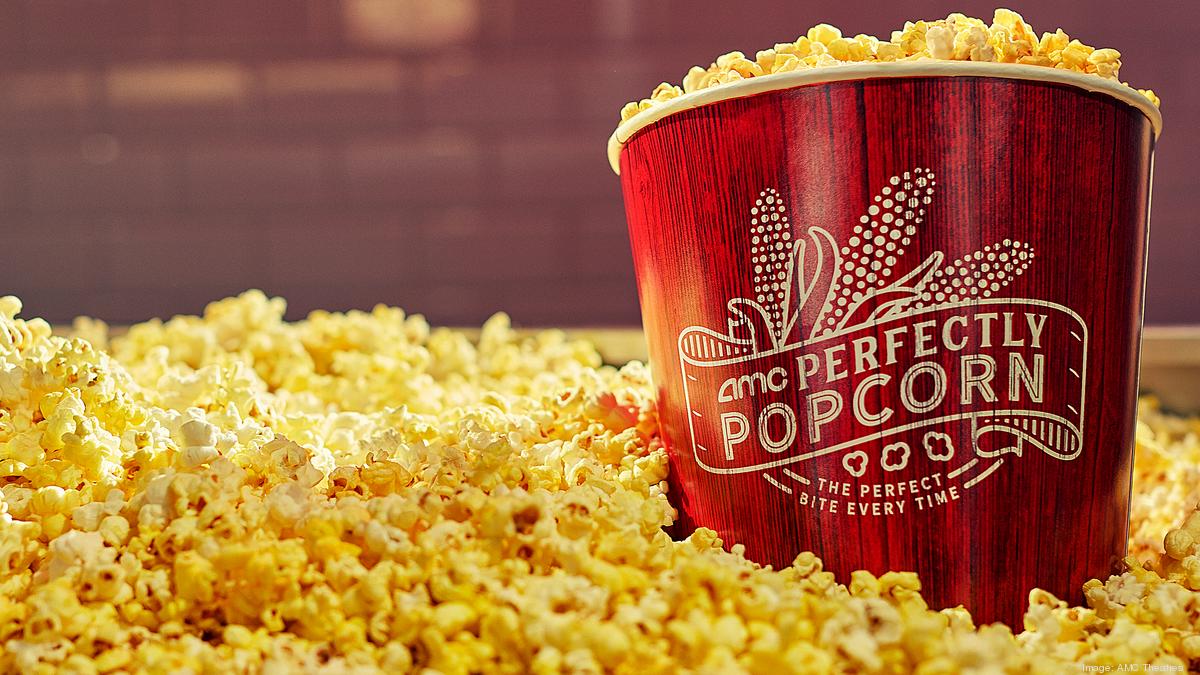 A new revenue stream is popping up for AMC Entertainment Holdings Inc. that gives fans more access to its buttery theater popcorn and AMC a bigger customer base.
The Leawood-based movie theater chain (NYSE: AMC) is rolling out prepackaged and microwavable-ready "AMC Theatres Perfectly Popcorn," which will be available at grocery and convenience stores throughout the U.S. in 2022. The theater giant also plans to open as many as 15 AMC Theatres Perfectly Popcorn stores inside malls, where it will sell a variety of popcorn flavors, along with other treats and Coca -Cola Freestyle options. AMC plans to add "significantly more" stores in 2023 and the coming years, according to a release.
Other plans include selling to-go popcorn packages at its theaters and teaming up with third-party home delivery services in markets where its theaters are nearby.
The U.S. popcorn market is a multibillion-dollar industry, and on AMC's busiest days, it makes roughly 50 tons of popcorn a day. Delving into the popcorn business is a natural fit, AMC CEO Adam Aron said in the release.
"With this new AMC initiative, we expect to reach entirely new segments of the U.S. population with our popular AMC Theatres Perfectly Popcorn," Aron said in the release. "For AMC Entertainment, this is an opportunity to diversify our business and to create a new revenue stream for our company, all the while delighting popcorn lovers whether they are in our theatres, are on the go or find themselves in the comfort of their own homes."
AMC's theaters remained shut for much of 2020 because of the pandemic. Even when theaters reopened their doors, many customers stayed away, choosing to watch movies on streaming services. Last year, U.S. subscriptions for the leading streaming services grew about 50%, The Wall Street Journal reports.
In an effort to reignite ticket sales and remind fans of the magic of the big screen, AMC recently launched a $25 million-plus national marketing campaign starring Nicole Kidman. Behind the campaign is Kansas City-based Barkley, AMC's lead agency, which handles its media planning and buying.
The popularity of "Dune," along with customers' growing confidence about returning to theaters, has boosted AMC's tickets sales. AMC said Monday that its domestic and international revenue was at its highest since February 2020.
Challenges still lie ahead, however. For some U.S. consumers, the pandemic may have permanently changed their moviegoing habits. What If Media Group surveyed 20,398 U.S. adults earlier this year, and 20% of respondents said they didn't plan to return to movie theaters when a Covid-19 vaccine became widely available. An additional 10% said they are somewhat unlikely to return, Forbes reports.
A What If Media Group spokesperson told Forbes: "Our survey results reflect that while the demand for movie theater attendance is there, the pandemic has, for at least some Americans, perhaps forever changed the way they prefer to consume content, similar to what we have seen with the exacerbation of the shift to e-commerce."
>>> Don't Miss Today's BEST Amazon Deals!

Originally Appeared Here