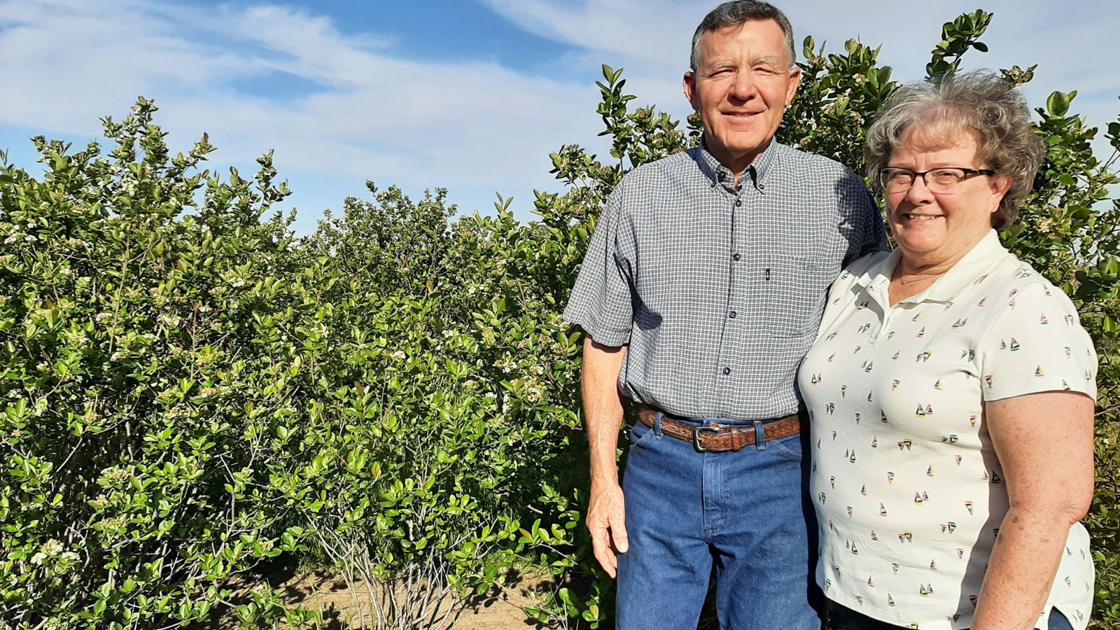 Dale and Nancy Hilgenkamp of Arlington stand near Aronia berry bushes on their farm.


TAMMY REAL-MCKEIGHAN; Fremont Tribune



TAMMY REAL-MCKEIGHAN
Fremont Tribune

As people around the world seek to boost their immune systems, sales of so-called 'halo' superfoods are creating a windfall for farmers. Ginger-farmer Karima Imam's business has gone from strength to strength. Lucy Fielder reports.
FREMONT — Once a year, Dale and Nancy Hilgenkamp's grandkids get to look like Smurfs.
The kids don't wear costumes to resemble the blue cartoon characters.
They just help with the aronia berry harvest on their grandparents' farm about 5 miles northeast of Arlington.
"When we harvest, our grandchildren help at the back of the harvester and eat them by the handfuls," Nancy Hilgenkamp said. "They come in looking like little Smurfs."
Aronia berries are small, dark-colored fruit that grow on bushes.
Not to be confused with chokecherry, which is a different plant, aronia berries are also called chokeberries.
Aronia berries have a dry, astringent taste, but can be an ingredient in pies, served on cereal, mixed into yogurt and baked into cookies, breads and muffins. The Hilgenkamps have made aronia berry ice cream, too.
The Hilgenkamps' Aronia berry venture began after Dale's brother, Gene, planted grapes on the home place about 15 years ago. The home place, which has been in the family for more than 150 years, lies north of Dale and Nancy's farm.
Gene learned about aronia berries from some fellow grape growers.
"We looked into it," Dale Hilgenkamp said. "They were relatively new and unknown here."
[ad_2]
Originally Appeared Here